The Stamps And Inking Craze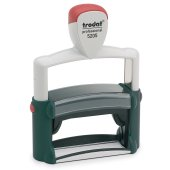 Forget the images you have of businesses using rubber stamps to post images of 'paid' or 'approved' on business documents. Rubber stamps are capable of doing so much more and serve business owners in so very many ways.
Rubber stamps can be used to help businesses build their brand identity. While larger businesses have the money to invest in glossy, printed materials, a small business or start up will not have such an unlimited budget. As more and more business owners rely on stamps to mark their products and marketing material, it's no wonder why this craze has truly taken off.
Artists and Craftsmen
These entrepreneurs use stamps to brand their finished products. A personal but customized stamp used on their product labels help distinguish them from products that are massed produced. Commercially printed labels will take away from the hand crafted image these artists would want to portray. More than that, there are costs involved in having labels made commercially. To save money and maintain the hand crafted integrity of their products, these business owners print their own labels with after care instructions and use stamps to brand their logo and business name on the items.
Envelopes and Packaging
A simple and low cost alternative to mass printed envelopes and packaging is to use a customized stamp with your business address, website, and logo. Small scale sellers can use this inexpensive method to brand their service. Stamp your packages, envelopes, invoices and delivery notes to build aware of your brand.
Promotional Literature
Another way businesses can use rubber stamps as a cost cutting measure is to customize promotional materials. When Easter or Christmas rolls around, you can purchase generic cards and customize them with a stamp embossed with your business name, address, website, telephone, email, logo and a seasonal greeting. You can use the same method to send out thank you cards to your loyal customers, for invitations to special sales and for coupons and discount codes.
Business Cards
If you have a simple business card, you can customize it with a stamped logo. This is a simple and effective way to brand this important marketing material when your budget is small. You can upgrade to attractive, printed cards when your business becomes profitable.
Marketing
Use stamps with your address, logo and website to brand your marketing material such as flyers and brochures. Use a portable stamp to provide your information on the go to anyone who requests it. Simply stamp the information on a piece of paper or notepad as an easy replacement for business cards.
These are just a few ways businesses use stamps to build brand awareness. Stamps can also be used for personal use. From thank you notes to return address, stamps remove the monotony and makes light work of routine tasks.
Crystal has written this article for Stamps Done Right, leading vendor of Cheap self inking stamps and specialized stamps online.