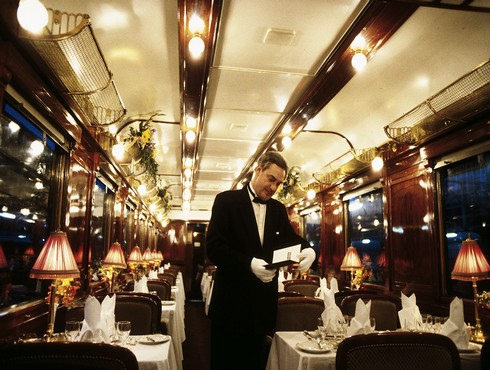 No matter what you're used to, giving yourself a little piece of luxury every now and again is certainly worthwhile. There's just something that makes us smile when we spoil ourselves and from spas and massages to slap-up meals at a posh restaurant, everyone needs to experience a little bit of the good life at least once in awhile.
Travellers are absolutely no different and although the temptation to go economy on everything is somewhat appealing, pushing the boat out can often present a more memorable journey rather than simply just getting to your destination as quickly as possible.
The following modes of transport are all perfect for seeing how the other half live for a change and if you're fed up with going 'cattle class' or being stuck at the back of a bus with a crate load of chickens then read on and really enjoy the ride.

Fully-crewed Yacht
If you want to get from a to b in absolute luxury then try hiring a yacht complete with crew for that 'I've just arrived' experience. Nothing says 'hello sailor' more than gliding into a marina with your captain's hat a jaunty angle and a sun tan that just screams 'Caribbean, darling'. Hiring a crew is your chance to sit back and drink something fizzy while burly men pull ropes and twist knobs so if you're thinking that you could handle a life on the ocean waves then what are you waiting for?
Cruise Ship
If you'd prefer your sailing experiences to be all-expenses and dripping with opulence then why not consider small ship cruises where all you have to do is wine and dine and watch the world float by. This sort of travel allows you to be as sociable or as reclusive as you deem fit and if you just fancy watching the sun set as you cruise into the harbour then so be it. Travelling has never been so indulgent and there's nothing like the gentle buzz of a ship's engine to send you off to sleep.
Hot Air Balloon
Of course, if you'd prefer your luxury travel journey to be all about the silence then gliding by hot air balloon is the only way to go. This is as traditional as it's luxurious and the best thing is that you don't have to lift a finger other than to quaff another glass of Champagne. This sort of flight is perfect if you have all the time in the world and you really want to take in the view. Also, if you've got a very important question to pop en-route then there's never been a better moment to pop it.
Luxury Camper Van
If you prefer to travel under your own steam where you'll be living under the same roof that you'll be driving in then why not rent a luxury camper van for a week and tour the country in style. Getting your hands on a VW that's been kitted out with air-con, sunroof and plenty of gastronomic delights is exactly what I'm talking about and not only will you be arriving in style but you'll be the talking point of the whole campsite.
The Orient Express
Finally, if you're looking to rediscover the old-fashioned allure of a steam train as it chugs its way over hill and dale or takes in the romance of Paris or Venice then get yourself an overnight sleeper carriage on the Orient Express and you won't be disappointed. Long distance travel has never been so gorgeous and from 5-star service in the restaurant car to no end of intrigue and gossip in the bar, this is certainly one of the most luxurious modes of transport ever invented so why not jump on-board and see what all the fuss is about – tickets please!