Great Advice for Female Travellers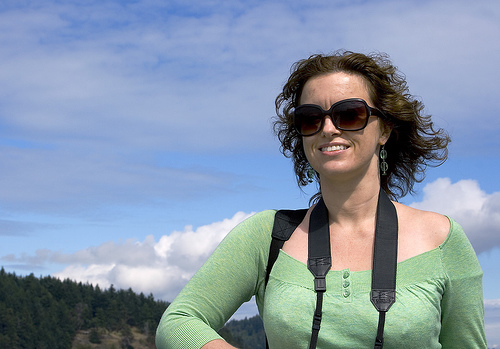 No matter where you want to travel, be it the Middle East, China or the United States, women travelling on their own are going to encounter a variety of experiences in more ways than one.
Unfortunately we still live in a world where lone females are often viewed differently to their male counterparts and, for whatever reason, the need for women to pay greater heed to their safety is often the key to a successful solo tour.
I've been travelling all across the globe and have encountered many women, young and old, who have decided to journey on their own. Without exception, each of the women that I met was completely at ease with themselves and perfectly happy in their own company. This is probably one of the key elements of travelling alone and no matter whether you're male or female – if you're brave enough and as sensible as possible then you're going to be ok.
Below are 5 pieces of advice that I gleaned from meeting women travellers in places as far-flung as Australia and Thailand so, if you're preparing to set out on your travels, take heed and have a great trip.
What to Pack
Essentials such as moisturisers, wet wipes and first-aid kit should never be overlooked no matter where you're travelling to and if you're heading for exotic climes then don't forget your malaria tablets. Clothing wise depends on the weather but as a rule of thumb I advise taking clothes that can withstand a few creases and can be mixed and matched with other items. For example: vest tops and blouses that go with skirt, jeans or shorts. Underwear can be cleaned and dried pretty quickly so don't overdo it and if you're worried about bad bed hair then a cheeky head scarf always does the job when you've got places to be and not much time to get there.
Who to Travel With
As mentioned, the women that I met were all travelling alone but this didn't mean that they spent all of their time on their own. When you're moving around it's inevitable that you'll get chatting with people even if it's just to pass the time of day. Best advice is to get to know someone first before you consider going out for lunch or a drink with them. Couples tend to be a safe bet as do other single female travellers and the old adage 'there's strength in numbers' is certainly worth paying attention to. If you're really wary of someone then move on and don't take any risks. Small group tours are a great idea to get to know people in a safe environment and often give you the chance to travel independently with new friends once an organised tour has finished.
What to Avoid
If you're sensible then you'll avoid alcohol altogether, however, as with most travellers, the temptation to go slightly wild on a night out is never too far away. Try to pace your evening's intake with bottled water and do your best to avoid getting left behind from a group or finding yourself alone and away from a public place. Also, where possible, avoid ice in your drink. It's highly unlikely that single women travellers will find themselves in danger if they stick together with other like-minded people and don't take undue risks unless totally necessary. By staying in well-lit public places and not going out alone at night, you'll be lessening the risk of getting into trouble and also lengthening the amount of time that you'll feel happy being away from home.
Where to Stay
Hostels are always to be found on the travelling map and from flea infested pits to lavish 5-star surroundings, your budget and location will often dictate your choice of accommodation. Where possible I advise sticking to hotels and hostels that have been mentioned in guidebooks like the Rough Guide and Lonely Planet. These have been tried and tested and will probably contain a few other travellers who could be worth getting to know better. Meeting people at a hostel is a great idea because you have a chance to suss them out in the presence of others and there's often plenty of communal spaces where you can really relax as you shoot the breeze.
How to Stay in Touch
As with all solo travellers, getting lonely and missing home is pretty much par for the course. This is natural and really doesn't mean that you're not being brave or aren't getting the most from your adventure. Keeping in touch with friends and family back home is an extremely sensible thing to do and will not only assure your parents that you're safe and well but will help you put into context exactly what you've been up to on your tour. Have a designated time when you email, text or phone home and in this way your folks won't worry too much and you'll be able to get on with enjoying your trip. Also, stick to an itinerary and tell someone where you're going every step of the way. In the unlikely event that something does happen at least the local authorities can be alerted and put on your trail right away rather than nobody knowing where you are.