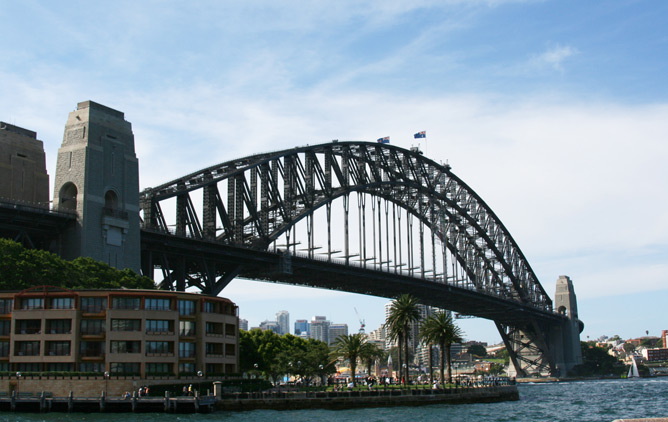 Whether you're low on dough or simply don't like spending money, don't think that sitting on the couch is the only activity you can do. If you're in Sydney, Australia you can still see some of the spectacular sites and participate in fun activities. Here is a great list to get you started on seeing Sydney for cents…or even free!
1. Walk this way: A great way to start off your day in the lovely city of Sydney is by taking a free walking tour. Sydney is home to one of the greatest harbours in the world, so why not get a better look at it by walking along it? There is a 26 kilometer circle that can be walked with optional little detours that could add up to a 45 kilometers walk.
Should you want to rent a bicycle for a small amount of money feel free to bike around this interesting path that takes you to some of Sydney's best highlights. You will go over bridges and loop between bushes and bays. Don't feel rushed, these sites aren't going anywhere.
Separating this walk into 3-4 hours each day is totally do-able and recommended so that you can take everything in without making it a marathon.
2. Do the Baywatch: Alright, so you don't actually have to run in slow motion down the beach, but you can walk the walk that Sydneysiders have been doing for decades, the Bondi to Coogee Beach walk. This walk spans for about 6 kilometers and is of course, completely free to wander.
You will experience great views of Bondi, Tamarama, Bronte, and Coogee beach. So why kill two birds with one stone by getting a good workout whilst experiencing some of Sydney most popular beaches. You can then choose your favorite beach to return to the next day for yet another fantastic and free activity to do.
3. Window shopping: There are a plethora of markets to get lost in while wandering the streets of Sydney. All of the markets are of course free to get in, but you must fight the urge to buy if you're on a tight budget. You will find a vast array of handmade goods, beauty products, souvenirs and more at the Rocks Market.
If you'd like enough stalls to keep you busy for the day, head to Paddington Markets for over 200 stalls to sift through. Many of these markets are only open on the weekend, but Paddy's Markets has a few locations with markets open during the week as well.
4. Hear here: What's that you hear? Probably just one of the many street performances that are conducted every day as you walk around this marvelous city.
Meandering through Circular Quay you are almost guaranteed to come across a street performance. Darling Harbour and the Central Station Tunnel are some other popular gathering spots for entertaining performers.
5. Go Gothic: Sydney has some interesting and remarkable churches, many of which resemble Gothic architecture. No need to love the head banging music, or have your fingernails painted black, these impressive structures will strike any onlooker. St. Mary's Cathedral and St.
Andrew's Cathedral are two popular Gothic churches. If you want to check out other places to get in touch with god or just marvel at the structure itself, you can visit St. James Church and the Sze Yup Kwan Ti Temple, one of the two remaining temples in Sydney.
6. Artsy Fartsy: At the Art Gallery of New South Wales you will set your sights on some of the coolest modern and contemporary works from around the globe. They have five levels and even a rotating exhibition here for you to enjoy.
To learn more about this gallery, pick up their offer on the one-hour guided tour that's completely free of charge. Also offering a free tour is the Museum of Contemporary Art.
7. Under the sea: So walking around Sydney is awesome, but it's time for a cool down. Just head to Shelly Beach and take a plunge with some of Sydney's wonderful marine life. Home to the big grouper and black rock cod, Shelly Beach is a lovely place to cool down and snorkel the depths of Cabbage Tree Bay.
The Aquatic Reserve here offers great sub-tidal reef and communities of kelp to house the underwater critters.
8. Get hung up: Known to the locals at the 'coat-hanger,' the Sydney Harbour Bridge is a fun adventure for everyone. This is the world's largest steel arch bridge to date. Grab your camera and head up to the bridge. If you don't want to pay the fee to climb to the top, you can just walk across it to get nearly the same photo opportunities just a bit lower to the ground.
9. Secret Garden: It's not so secret, but it can surely feel like it is. With heaps of nature trails, sculptures, public art, and more, you will find your happy place at Royal Botanic Gardens. Totally fascinating and complete free, this area is very peaceful and offers a beautiful setting for your walk.
10. Pitch a picnic: After all this strolling around, site seeing, and swimming in Sydney, it's time to take a break and grab some grub. There are plenty of palate pleasing cafes and restaurants in the city, but if you're up for something a little different you can pack a picnic and move along to Centennial Park.
Chock full of lush woodlands, grass hills, and ponds, this serene spot will be a nice place to wind down from your very busy day of taking in Sydney.
There you have it! 10 great ideas for seeing Sydney on cents.
Featured images:
License: Creative Commons
image source
James Chatman writes for JC Limousines, a Sydney-based limo hire company.