Travel Destinations – Koh Samui And Koh Tao Islands In Thailand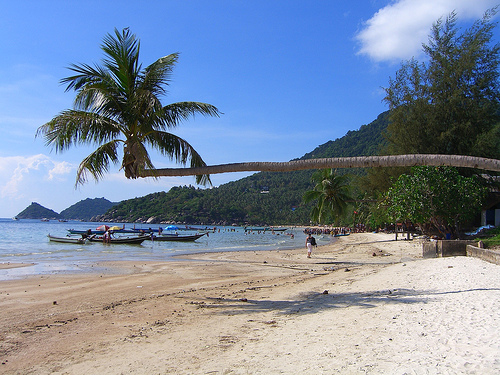 Koh Samui and Koh Tao are two beautiful islands in Thailand. They aren't as popular and crowded as Phuket, and they are definitely worth a visit.
Koh Tao
Koh Tao is north of Koh Samui and has quiet and peaceful beaches which attract many tourists. Since diving is the main attraction on this island, the beaches remain quiet and tranquil while food, accommodation and other facilities have improved a great deal.
Koh Tao is a palm fringed island whose name originates from the numerous sea turtles residing around its shores. Historically, the island was reserved for political prisoners but nowadays it's a nice spot for divers and people who want to have a good time away from the busy life in Koh Samui.
Koh Tao Island attracts diving tourist and those who wish to learn the sport. Peak seasons on this island are between July – August and December – March. It is a popular destination even for the locals and it is likely to be fully booked during Thai holidays.
Travel from Koh Samui to Koh Tao by ferry and experience the fun and excitement because it is a day trip and you get to see so many places and wonderful things. The day trip to Koh Tao will leave you asking for more.
Main activities to do in Koh Tao are mountain biking, walking and hiking, kayaking, fishing and rock climbing.
Major Attractions in Koh Samui
Big Buddha
Big Buddha is a shrine located on the Northern side of Koh Samui. This is a famous landmark in Samui and is visible from a few kilometers away. There are many shrines and small ornate Buddhas inside the temple.
Hin Yai and Hin Ta Rocks
Hin Yai (grandma) and Hin Ta (granpa) are great rocks which resemble the female and the male genitalia. These beachside rocks are located between Hua Thanon and Lamai raising indulgent chuckles from tourists who visit the site.
Hin Lad Waterfall Temple
This is a small, beautiful and peaceful temple located to the left of Hin Lad waterfall. You can cross over the bridge and take a moment to reflect about life as you enjoy the fish delicacies. The place is calm and well shaded providing a good environment for relaxation after a hike.
Hua Thanon
This fishing village is located on the Southern part of Hinta Hinyai. It is home to a huge population of Samui's Muslims and retains an old Samui experience with wobbly teakwood cottages along the road. There are also some seafood restaurants, jewelry boutiques and ethnic clothing stores.
Travelling from Koh Samui to Koh Tao has not always been easy; however you can take a ferry which takes approximately one hour. There are many ferry services plying the island twice every day. The crossing may take about two hours, with a stopover at Koh Phangan to drop off some passengers and pick others. Ferry tickets are available at any Samui travel agents and departure time is between 8am -1 pm daily. You should make your bookings on time to avoid any complications.
Seatran discovery and Lomprayah Catamaran are the most comfortable and fastest means of getting to Koh Tao. They operate twice daily from Koh Samui, Surat Thani, Chumphon and Koh Phangan. They offer online booking services to check availability during peak hours. The boats have movies and air conditioning to ensure the comfort of passengers.
Featured images:
License: Creative Commons
image source
License: Creative Commons image source
John Chen is a travel writer currently located in Bangkok, Thailand.