10 Most Beautiful Islands in the World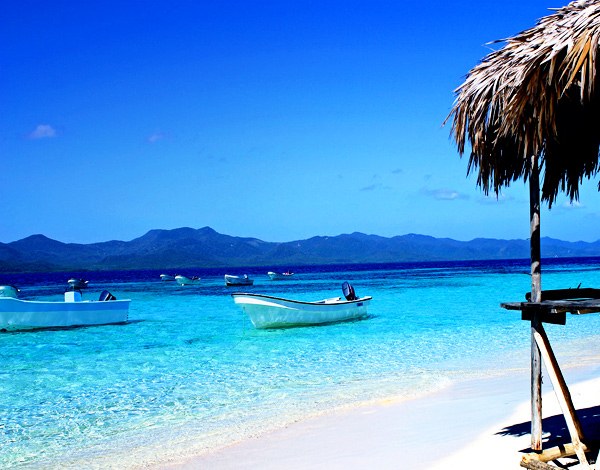 Everyone dreamed at least once of escape to a paradise island where you can enjoy the sea, sun, sand, natural beauty and calm. Here is a selection of 10 paradise islands where you can spend a fabulous vacation. This article is contributed by Sergey, blogger from Ukraine.
Paradise, Bahamas
The name of the island speaks for itself. Really getting into this little island, anyone would feel in the seventh heaven. Beautiful beaches, luxury hotels, casinos and great nightlife – it's all there on Paradise Island. Even crowds of tourists who come here from all over the world can not overshadow the impression of fantastic places.
St. Thomas, U.S.
The Danes, who back in 1917 sold this island to U.S. government for $ 25 million probably still regret about it. Howl this paradise could be sold for these penny? But for U.S. residents deal was more than successful – now St. Thomas is one of the main resorts for Americans.
Bora Bora, French Polynesia
One can guess that Captain James Cook, who landed on the island of Bora Bora in 1777, was going to abandon all his circumnavigation expeditions and settle in this beautiful place for life. Bora Bora attracts like a magnet. It is the perfect island for a relaxing vacation. Many call Bora Bora Pearl of the Pacific.
Bell Island, Italy
The Italians call this place Isola Bella – that is "beautiful island." Although, it could well be called as a "very beautiful island". No wonder Napoleon liked to rest there with his first wife Josephine. A great writer Stendhal dedicated Bell Island, located on Lake Maggiore, the following lines: "If you have heart and a shirt, sell the shirt and visit around Lake Maggiore."
Santorini, Greece
Santorini is not only one of the most beautiful islands in the world, but also one of the most impressive ones regarding archeology and geology. The extraordinary beauty of nature, wild volcanic landscapes and unique terrain of rocks and red-black sand beach called rapid development of the tourism industry. The most famous beaches are Perissa, Kamari, Monolithos and Red Beach. The first three are distinguished by their black volcanic sands and deep blue waters.
Phi Phi, Thailand
Phi Phi Islands is an archipelago off the coast of Thailand, between the mainland and the large island of Phuket. The archipelago consists of islands: Phi Phi Don and Phi Phi Le. Phi Phi Don Island consists of two limestone monoliths, connected by a small bridge on either side of which a few hundred meters spread fabulously beautiful beach surrounded by palm groves.
Taveuni, Fiji
Taveuni Island, located South of Vanua Levu, is famous for its beautiful beaches, 31-kilometer coral reef, unique opportunities for bird watching and violent tropical vegetation. For a variety of flora and fauna it is called island-garden. Interestingly, it passes through Taveuni Date Line – 180 th meridian. In addition, the island is also famous for many picturesque waterfalls.
Jeju, Korea
Island of Jeju (formerly Cheju Island) is located off the southern coast of South Korea in the Korean Strait. Jeju Island, also known as the "Island of the Gods", is a popular holiday destination for Koreans and foreigners and the main honeymoon destination for Korean newlyweds. Fishing is done by women here. Familiar sight at the shoreline is Jeju women divers, who became a symbol of the island. Even more iconic giant statue is made of basalt, which can often be seen at restaurants and in many other places.
Maldives
2000 small islands, lost 700 kilometers off the coast of Sri Lanka is the Maldives. You can retire from the bustle of big cities, enjoy the tropical nature. Maldives is the perfect place for diving. Coral reefs are unseen inhabitants of the deep sea. All this you can see in the crystal clear waters of Indian Ocean.
Mauritius
"Beautiful your beauty, your beautiful aroma" – sung the national anthem Mauritius. Today it is not only one of the most beautiful but also most expensive islands in the world. Mauritius is known as a standard of luxury.