Varanasi – Exploring God's Own Land Amongst Us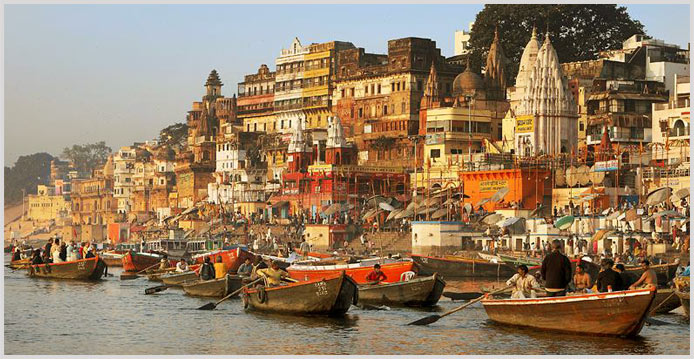 Varanasi, otherwise called 'Benares' or 'Kashi', is known as the holy city of India. It is located in the northern part of India. The spiritual capital of India, it is considered the most sacred city in India and oldest city in the world. Devotees from all corners of India come to worship in Varanasi. Some make the trip from as far as Chennai, Rajasthan or Patna to Varanasi just to pay homage and take a holy dip in the sacred water of the Ganges.
Varanasi is situated at the banks of the River Ganges, which is believed to have the power of washing away one's sins if they take a dip inside it. Because it is the abode of Lord Shiva, devotees believe in the powerful presence of a higher power in that place and it is also believed that three nights of fasting in Varanasi city can reap you rewards of many thousands of lifetimes, thus making it the most popular pilgrimage point for Hindus all over India.
On your visit here it is not only the spiritual enlightening that you should look forward to but also the various other perks the oldest country in the world has to offer. To begin with; the art and music. Varanasi or Benaras has its own unique treasure in its traditional music and art. Maturing from time dating back to the 16th Century, this city offers music and art in the form of dance and drama in its truest convention. Then comes the shopping. You are in the place where the high demand of their local silk products are a demand not confined to India alone but the world over. Get to experience the finest silk made locally and ask around and grab the chance to go and view first-hand how silk is made locally. And lastly, visit all the tourist attraction spots during your stay there. Some tourist spots may include Benaras Hindu University, Jantar Mantar, Bharat Mata Temple, Sankat Mochan Temple, Vishwanath temple, and Chunar Fort among many others.
Varanasi has one of the best transport connectivity in India with almost all modes of transport ranging from air, water, rail to road. You can easily find airlines connecting you to all major metropolitan cities and other smaller cities and towns. The city also has one of the biggest railway stations in India with four major lines, namely, Kanpur to Varanasi, Allahabad to Varanasi, Rae Bareli to Varanasi and Lucknow to Varanasi train line. You also have the option to make your travel via boat or simply take a boat cruise for sightseeing across the city. And the option to travel by road on buses is still very much opted by people who come travelling from not too far off.
Filled with exotic and historic elements in every nook and corner of the city, this trip makes an exciting and enlightening experience, fulfilling a much needed chapter in your travel diaries!
Dimpy Roy
Dimpy Roy is a travel writer working with an Online Travel Guide. She guides travelers to various resources where they can find best Bangalore to Varanasi flights and choose the best one.