Travel Tips: Amazing Beach Vacation In Malaga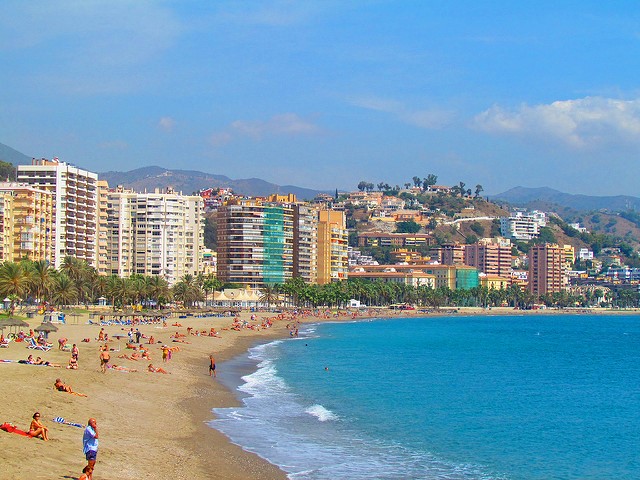 The Mediterranean coast belonging to Malaga is called the Costa del Sol which means 'Sun Coast'. The beaches of Malaga fully correspond to this name. This is the southernmost coast of Europe, and tourists from all over the world come there to relax.
The beaches of Malaga are not considered to be the greatest in Spain, but most of them offer first-class service. The majority of the beaches of Malaga are sandy, well equipped and feature all the required amenities: sun loungers and parasols, children's play areas, urns, showers and toilets, medical centers and rescue towers, as well as beach cafes. Several beaches of the coast of Malaga smoothly flow into each other so that you don't immediately understand where one sandy beach ends and another begins.
In general, the city of Malaga includes 16 beaches. They are placed within the city limits and it's quite easy to get there. Here're the best of them…
Playa del Campo de Golf
It can be assumed that this is the first beach of Malaga from the geographical point of view. It's located on the border with Torremolinos municipality next to a large golf course. The territory is quite wide and long (1800 x 50 meters). The sand is dark there, the entrance to the water is gentle and the water itself is clean enough.
The beach has everything you need to enjoy a relaxing holiday by the sea, but despite this fact, it's not crowded even in the high season.
In addition, Playa del Campo de Golf is a favorite place for kite surfers. In the mornings you can see a lot of sails. You can get to this beach through Parador de Malaga Golf Hotel.
Playa de La Malagueta
It's the most popular and the most visited beach of the city. It's sandy and incredibly comfortable. The length of the beach area is about 2500 meters, and the width is about 60 meters.
A special feature of this place is a special safety system that allows helping the injured people quickly and effortlessly. This system is equipped with navigation devices, which can find any person or group of people who have moved away from the coast for a great distance.
Playa La Caleta
Similar to La Malagueta, this beach is also popular among locals and tourists. Playa La Caleta is sandy and large enough (1000×20 meters). It's placed only a few minutes' walk from the historic city center.
It's always noisy and crowded. Infrastructure is incredibly developed. On the waterfront of Pablo Picasso, you can rent a bicycle, and find several spots to engage in fitness. On Playa La Caleta you can play volleyball or football, which is incredibly popular in Spain. You can get there via Las Vegas Hotel.
Playa de La Misericordia
Playa de La Misericordia is a large sandy beach. Its length is 1200 meters, and width is 30 meters. It's placed between Guadalhorce and Guelin rivers. There's everything necessary for recreation, it's not very comfortable to relax there with children, as this beach area is usually full of the local youth who live in the seaside part of the city.
Perhaps, this is due to the fact that Playa de la Misericordia is the best place for surfing. Huge waves, known in Malaga as Ola del Melillero attract the fans of extreme sports. However, these are not natural waves. They are created by a large ferry that comes to the city port every evening.
Playa de Banos del Carmen
Banos del Carmen is a relatively small beach with dark gray sand mixed with shallow pebbles, which features the length of 550 meters. Behind the beach there's a stretch of coast with a heap of large stones.
Actually, the highlight of this place is the characteristic Andalusian-style buildings painted with bright colors, as well as an abundance of cafes and restaurants, where you can taste the best seafood dishes in Malaga.
Playa de El Dedo
Playa de El Dedo is also a sandy beach, but its length is only 500 meters. This spot is considered to be a suitable holiday destination for families, as it's well equipped for children and features soft sand. This beach closes a long and uniform coastal strip consisting of several beaches, which can even be called a separate and very picturesque area of Malaga.
Behind El Dedo beach there is a small harbor of Puerto del Candado.
Playa de San Andres
Playa de San Andres borders the port of Malaga from the western side of the coast. This sandy beach has the length of 650 meters and the width of 50 meters. Playa de San Andres is full of dark gray sand and fully equipped with the necessary infrastructure for a comfortable beach relaxation.
By the way, along the beach you'll find a beautiful promenade with numerous entertainment venues and a children's playground. Also, there is a small park opening spectacular panoramas of the sea.
The beaches of Malaga are just wonderful. Featuring clean sea water, soft sand, necessary amenities and the choice of extreme sports it's an excellent relaxation spot for the whole family. You can rent a car in Malaga under 21 and get an unforgettable experience by visiting these beautiful beaches.