Top 3 Most Popular Porcelain Dolls Among Collectors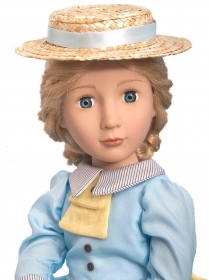 Porcelain dolls are among the most popular dolls, especially among doll collectors. If you are just getting started in doll collecting, it can be a fun and even addictive hobby to some. Knowing what to look for can also be quite a challenge, and if you aren't sure, you can end up paying more money for the doll than it is worth.
This is clearly counterproductive if you're looking to add value to your collection and perhaps even sell them on at a later date. Here are the three most popular dolls amongst doll collectors.
Antique
Antique, or as some would call them vintage dolls, have been around for over 200 years. Many antique dolls are very rare and in some cases, very costly as a result.
Before you go on a hunt for antique dolls, you might consider doing some extensive research as there are many people that try to duplicate antique dolls and sell them on the market as originals.
You then end up paying top dollar for a doll that might only be worth a few dollars.
Even if you see a doll 'in the flesh' and are convinced of its worth, you should still ask for proof of its value, whether that be in the form of a certificate or some other evidence.
Handcrafted
Handcrafted dolls are usually collectible dolls that are produced by an artist, and the artist has only produced a limited quantity. These types of dolls are extremely popular.
Because they are handcrafted, each doll is unique, authenticated and very detailed. Often times the artist will not duplicate the dress of the doll, making it even rarer.
If you can find special editions of these that have been made specifically to order, or for a specific person – especially if they're a celebrity – then you should expect to pay a lot of money for it.
 Limited Edition
Limited Edition dolls are also quite popular among many doll collectors. These dolls can gain much in value, the longer you keep them and care for them properly.
Most of the time these dolls are only produced during certain times of the year and generally only in limited quantity. There are many limited edition dolls to choose from.
For example, the classic Barbie doll features numerous porcelain limited editions. If you're a fan of Disney, they have many of your favorite characters in limited edition porcelain doll collections.
As with all collectors, do your research, especially before considering buying any collectible dolls. If you are becoming a
serious lover of dolls and a serious collector, then consider attending several trade shows held throughout the country that feature dealers and other serious collectors.
These shows can often be overwhelming as there is so much to see.
You might even think about attending a workshop at the show or even a few seminars to gain some additional knowledge about the doll industry that may benefit you as a collector.
There are many mass produced dolls on the market that look like a collectible, so make sure you have a thorough understanding of the value of the doll before you purchase one, as collecting dolls can be a huge investment, and you can often go beyond your budget.
Featured images:
License: Image author owned
License: Image author owned
Kate is an active collector of collectible dolls. However, she makes her living by her role during the week as a bookkeeper for a major corporation. As a widow, Kate spends most of her free time reading or constantly looking for new dolls to add to her collection.