Safety Checklist For Boaters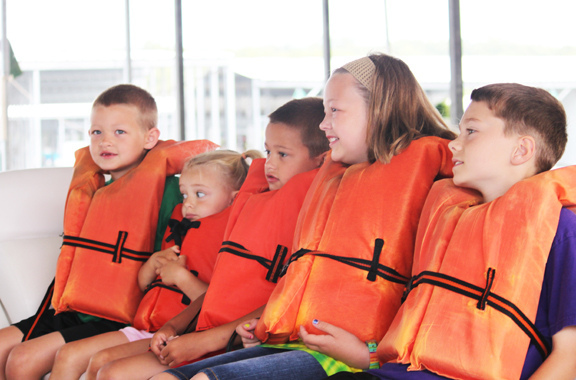 Whether you're boating on your local lake or out on the open seas, safety should always be a high priority when out on the water. Accidents happen, and boats that are not fully equipped and prepared can be in for a lot of trouble.
We've made a list of US Coast Guard required items for boats of all sizes, and what types of boats need to have them, as well as other safety best practices to have while out on the open water.
Personal Flotation Device (PFD)
It's first on the list because it's probably the most important safety item to have on your boat. Every person on boat should be able to have access to their own personal floatation device that works properly and is intended for their weight.
Laws vary by state, and some require that you wear them at all times, while others require you to just have them somewhere on board.
Regardless, it's always safer and not that much of an inconvenience to wear them, especially while the boat is moving.
As victims of boating accidents have stated when trying to put their life jackets on right when they needed them most "it's like putting a seatbelt on during a car accident".
Plus, it acts as an extra jacket when it gets a bit cold out! Additionally, if you have a boat that is over 16 feet long, you need to have a throwable PFD onboard your boat. Even if your boat has a swim ladder, it's still a requirement.
Navigation Lights
Navigation lights on your boat not only signal to others boaters where you are when it's dark or foggy out, but what side of the boat they're looking at. Every time before taking your boat out, flip your navigation lights on and make sure they're working correctly. Boats should come equipped with three working night signals, and boats over 16 may require more.
Sound Maker
Before taking your boat out on the water, be sure it has some sort of noisemaker that you have easy access to. It's particularly important when boating when it's dark, or in foggy conditions.
A whistle or horn usually will do the job quite well. If you happen to have a boat over 40 feet long, you are actually required to carry both a whistle and a bell at least 8 inches in diameter.
Fire Extinguisher
Fire extinguishers are not required on boats that don't have an engine motor, or don't have a motor for a boat smaller than 26 feet. However if you expect to do any cooking on your boat, if you smoke, or if you plan on lighting fireworks off your boat, then it's something you really should have on board.
Be sure you buy a marine type fire extinguisher, which are typically more compact and designed for operating in smaller spaces.
VHF Radio
Although not a requirement for most boats, it may be one of the most precious items to have on your boat. If you're out on the open water and an accident happens, what do you do? You may be miles away from the coast, and you likely will have little or no cell phone reception.
Your VHF radio may be your only line of connecting with others around you for assistance or even rescue. It's also good to have to connect with local harbors or marines and for getting updates on weather and other marine related news.
First Aid Kit
Also, not a strict requirement, but accidents happen out on the open water, and when you don't have access to necessary medical equipment, things can get a bit dangerous. Many first aid kits are designed to be stowed away on a boat, and assume you won't have access to clean running water or other items while on a boat.
Featured images:
License: Creative Commons
image source
Mike Hall is an active boater, and enjoys blogging about boating related topics. Visit Manitou Boats to learn more about pontoon boats and being safe on them.