Men Aren't The Only Handymen For Jobs Around The Home These Days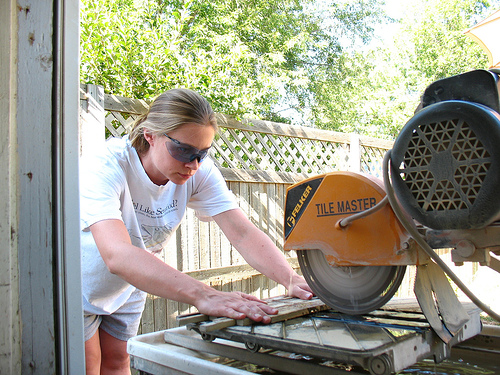 Let's be honest, in the past, jobs around the home which involved getting your hands dirty a little was a position reserved strictly for men. It is only in recent years that these boundaries have been broken. These days, more women than ever before are carrying out improvement jobs within their own homes, and many have even set up in business for themselves. Quite honestly, women are just as capable as men when it comes to work around the home.
What you need to remember is that being a handywoman is based around the skills that you have and the tools available for the job. There is absolutely nothing that a man possesses which makes them better at the job than a woman, despite what some people may think.
Almost all information that you need can be picked up from the internet these days, so everybody is able to tackle a task, providing they have the tools available. Many people say that women aren't capable of performing the job due to the heavy lifting involved, but to be honest, this isn't something that is going to be too much of an issue.
Quite often there isn't too much to lift, this really is a skills based job as opposed to a physical job. That being said, there are plenty of women out there who are just as strong, if not stronger than their male counterparts.
As I mentioned before, learning these skills isn't too hard, and anybody should be able to do it. I suggest that every single woman out there learns basic handyman skills to keep their homes in perfect condition. For example, installing shelves or even a bit of basic plumbing. You can do this, and it will save you a lot of money as you won't have to call in a specialist each and every time.
I think the only reason why we don't see many women in the construction industry is because it is a very male dominated environment, which does put them off. However, please bear in mind that this applies to general trades only. The majority of women that work in the home improvement industry tend to specialize in what they do, and they do it incredibly well.
As you can see men aren't the only people who can carry out work on your property. If you are a woman yourself, you are just as capable of performing the job as any man out there. You just need the skills to do so (easy to pick up from the internet nowadays!). If you are searching for a handyman to work on your property, then do look beyond the issue of gender.
This isn't too much of a problem nowadays. Honestly, if you can find the perfect person for the job, then you are incredibly lucky and you want to stick with them. Remember, real experts are like gold dust. It doesn't matter if they are a man or a woman.
Featured images:
License: Creative Commons
image source
Michael Anderson is a handyman and blogger who wrote this on behalf of Totally Home Improvement, a website full of ideas, tips, and DIY projects you can put to use around the home.