Legacy Application Modernization – The Enterprise Perspective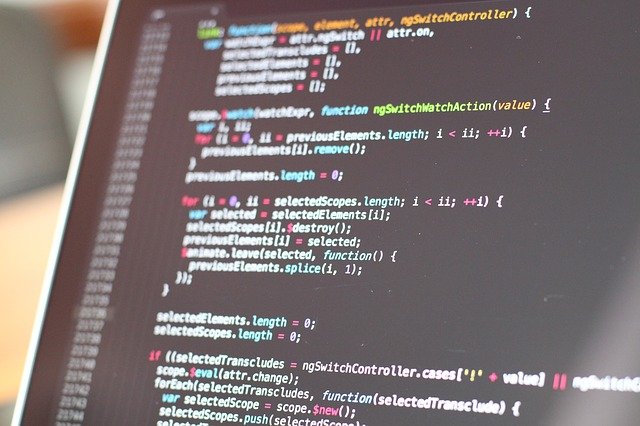 The global application modernization services market size is expected to grow from USD 11.4 billion in 2020 to USD 24.8 billion by 2025, at a Compound Annual Growth Rate (CAGR) of 16.8%.
It is vital for enterprises to stay abreast with the fast-moving times and keep their applications modernized with the latest enterprise technologies. There must be a novel value addition of current applications so that the legacy systems don't lead to slower processes, unsupportive browsers, and devices, reducing RoI etc.
When we say legacy systems, it could be a system which is developed long back or is using a language that is now obsolete or there is dearth of skills available or there is no support system for attending to issues. The crux lies in the huge bulk of data that lies within these systems and hence attending to them is a must, they cannot just be neglected or stopped.
Legacy application modernization is a must for enterprises, be it revolutionizing processes, people, or technology. It leads to creating platform resiliency, leveraging cutting-edge tools, driving efficacy, engaging taskforce, and increasing productivity. It is not as simple as it looks, though. There is a lot involved in upgrading legacy systems or replacing them with newer ones, in terms of functionalities, performance, testing, output etc.
What is Legacy Application Modernization?
Application modernization services address the migration of legacy to new applications or platforms, including the integration of new functionality to provide the latest functions to the business.
The modernization methods could mean rearchitecting, rehosting, reengineering, replacing, recoding, interoperating, or retiring systems. It would depend on multiple factors like timelines, resources, budget, infrastructure, organisational goals to come up to a conclusion of which method to choose while modernizing the entire system.
When it comes to the enterprise, things go a little different in garnering benefits like reduced IT costs, enhanced collaboration, high-end security and reliability. There must be a larger perspective, a broader view, and an open outlook to anticipate the kind of changes, errors, challenges that may pose before the stakeholders.
Enterprise application modernisation is the
Procedure to get the legacy systems either up to the modern-day standards
Migration to the cloud through cloud-based services and applications
Approach to seamlessly integrate latest technologies like microservices, DevOps etc.
Key to enhance the agility and productivity of systems with maximized return
Best way out to ensure speed, performance, robustness, customer satisfaction and scalability
Strategic decision to align organisational goals with current systems and make them work in sync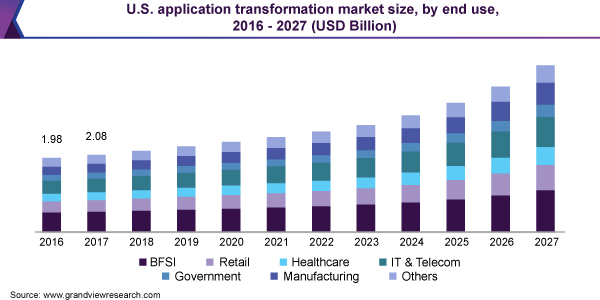 Courtesy: Application Transformation Market Size, Share & Trends Analysis Report
Why is It Necessary at Enterprise Level? The Challenges
There are certain unforeseen challenges that arise at the enterprise level, which is why modernisation of the same is needed. Here are some of the evident hurdles that call for application transformation:
Low end business output and performance of legacy systems
Lack of documentation, artifacts, and community support
Dearth of skilled resources in legacy technologies
Less support for latest IT features like IoT, AI, ML, cloud etc.
Less focus on security and stability leading to data breaches
Additional costs involved for maintenance and support
Difficult to scale and manage legacy systems
Tough for businesses to expand easily
Network disruptions and local outages
Lack of effectiveness, decision making and customer experience
Compliance with industry standards, rules, and regulations
A Good Read: Why Is Legacy Application Modernization Vital for Businesses?
How to Modernize Enterprise Apps?
There are different methodologies that enterprises adapt, for transforming their legacy applications. Here are some of the approaches that could work best:
Adding APIs to legacy systems may turn easy to connect to modern-day applications and thereby, have the old system intact. It may lead to certain customization but as compared to a completely new setup, there is less effort and more return ensured.
Creating applications with microservices will prove helpful in getting all the data from old systems into the new one. Since they are modular and scalable, it is easy to integrate with business procedures and data sources.
Implement SaaS based applications replacing legacy apps. This could lead to getting best of value from the data and procedures that is already existing and migrating them successfully through implementation of APIs, as needed.
Modernizing IT procedures is essential to ensure an effective app modernisation. All processes involved must be managed with cutting-edge approaches like DevOps and Agile to get the best of business value with optimum speed and efficiency.
Modernizing infrastructure is equally important since it is important to decide how and where to host, whether to use the cloud – public, private or hybrid, if cloud native would work better. Moving to the cloud may be almost indispensable but there must be detailed evaluation on the same.
Key Benefits of Enterprise Application Modernization
Following are the evident advantages that application modernisation is sure to bring for enterprises:
Reduction in Performance Costs and Maintenance Costs
Having legacy systems modernised can bring a drastic saving in terms of maintenance costs. Legacy systems are bound to turn up costly, as time goes. There must be more costs involved for maintaining the system on premise, with additional infrastructure. Modernizing these apps and changing the storage facility can reduce costs, over a longer run. There would be lesser needed for specialised IT resources to take care of the setup, since it would be more self-managed.
Observance to International Standards and Rules
Conformity to worldwide industry standards is a necessity now for all enterprises. Legacy apps may not be sticking to these guidelines and hence may not be achieving the recognition of the global community. Enterprises may have to accept the noncompliance costs severely. It is advantageous to have a digitized approach that observes all compliance criteria and hence the newer system must adhere to all globalized rules and regulations right from beginning.
Enhanced Client Experience
The crux of any business output lies in getting good client support and feedback. Transforming legacy apps is sure to offer best of client experience and enhance the satisfaction level. Customers today are wanting organizations to be updated with latest technologies and hence look forward to modern-day systems rather than usage of legacy systems. Issues like waiting time, security problem, limited scope etc. can crop up if not modernized.
Capability to Add on Newer Features and Applications
Changes to existing systems are inevitable. Modernizing applications help in inculcating novel features that are required to get the best out of systems, in this advanced world. These features pose to be a must for getting business results, customer satisfaction and complete productivity. Sticking to legacy systems may not give that output.
Improved Employee Productivity and Involvement
Employees would never want to keep working with older systems, facing trouble in executing results and decreasing performance. They want their enterprise to move onto newer systems, with good performance and security. This encourages them to offer better productivity and get more involved in the digital transformation activities. Modernisation also automates many of their mundane tasks, offering them of creative space and freedom to focus on their core work areas.
Increased Responsiveness, Performance, Security, Client Support
With accessibility of newest resources, infrastructure, functionalities and support, enterprises are bound to gain more of success in agility, implementation, security, productivity, and consumer support. A streamlined application will have an immediate impact on the business success and hence all factors relating to it will surely go up. Because of a brand-new look, UI and UX, there will be better performance and users will be more than happy to use the revised version. Scalability and flexibility will improve, and the updated system will be strong enough to insert all modern-day needs.
Accessibility to Real-time Information and Comprehensive Perceptions
Converting legacy applications into upgraded versions will offer real-time information that will be of great assistance to get comprehensive and perceptive information. Data availability and storage are now a simple assignment with cloud-based infrastructure and hence enterprises can effortlessly gain access to preferred information and obtain necessary reports.
Best Practices to be Followed While Modernizing the Enterprise
As important it is to modernize the enterprise apps, following the below mentioned guidelines surely helps bigtime:
Align business and technology teams so that there is effective coordination between them, all through the modernisation process
Have a seamless integration of applications with all other involved processes and functionalities
Take a modular approach to modernization, breaking down components into smaller services. That will be much more manageable and effective in getting a successful implementation.
Choose technologies that can be easily managed by resources or whose resources are easily available. That will ensure an easy switch from the legacy to modern version.
Work on the budget figures keeping in mind all types of conditions and pre-requisites
Keep a roadmap ready that can help in streamlining the further course of action
Freeze the scope of modernisation as far as possible so that there are least chances of deviation
Have a comprehensive risk identification and mitigation strategy in place so that sudden situations can be well managed
Perform a complete analysis of the legacy system and the forthcoming modernized versions
Select appropriate technologies, IT partners and infrastructure so that these components align well with the enterprise level objectives
Define and implement detailed data migration plans since data is the crux of all systems and losing out on data could be harmful
Keep tracking and monitoring the key performance indicators regularly to ensure that the activities are being performed as planned and there are least variations
Adapt to cloud-based services, as far as possible since cloud is the future of computing and going in for the best possible cloud technology is surely a benefit
Keep all teams, stakeholders, IT partners, project managers in sync with each other and plan for application modernization keeping them in confidence so that there is a harmonious output
Select the best method of transformation amongst the many options. All options may not suit all enterprises hence finalize based on different parameters whether the systems must be rearchitected, refactored, rewritten or rehosted.
On a Parting Note
Legacy Application Modernization has been an indispensable ingredient for all businesses now. A little more special focus is needed when it comes to the enterprise. All enterprises have their own set of special characteristics that must be adhered to, while transforming their legacy systems.