How To Rest And Revitalise In Vancouver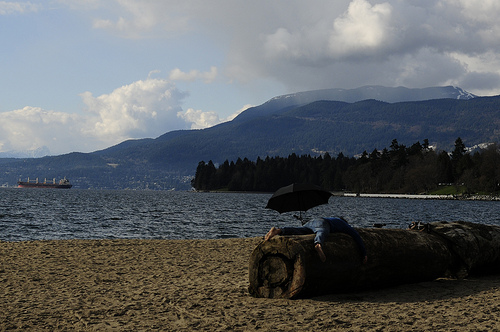 Thanks to Vancouver's relatively warm weather and its proximity to some absolutely breathtaking scenery, getting outdoors is pretty much the best way to get your mojo rising when faced with yet another perfect day in BC.
The parks, the lakes and the ocean all play no small part in why Vancouver is consistently voted as one of the world's most liveable cities and if you're wishing to revitalise and rest easy then there's no better place to start than on the west coast of Canada.
Below is a splendid selection of awesome outdoor locations that you'll get to experience in and around Vancouver and if that doesn't whet your appetite then you'll just have to head over for yourself to see what all the fuss is about.
Hit the beach – English Bay
As there are well over 10 miles of beach lining the shores of Vancouver it's no surprise that this is most definitely one of the best spots to escape for locals and visitors on a hot summer's day in the city. Sunset, Kitsilano and Spanish Banks are all ideal beaches that are close to the downtown district and from volleyball and beach soccer to sea kayaking and swimming, there are plenty of ways to rest and get active just moments from the city streets.
Park life – Stanley Park
One of the best ways to experience the coastline of English Bay is to check out the sea wall which runs all around the bay starting at Stanley Park. The park itself is around 1000 acres and aside from the sea wall you'll find all manner of attractions and outdoor activities to make the most of all-year-round. Salt water swimming pools, walks amongst the firs and cedars as well as chances to play tennis and even golf, make Stanley an absolute 'must' for anyone looking for a spot of R & R.
Kayak with the Killers
It has to be said that no trip to Vancouver is complete without going on a whale watching tour as this is one of the best locations in the whole of BC to get up close and personal to awesome orcas. This is a thoroughly absorbing and humbling experience although, if you're looking to get fit at the same time then you could always try a sea kayak tour that will enable you to get just that little bit closer to one of the Pacific's most impressive creatures, the killer whale.
Get into the Rockies
Try as you might, the draw of the Canadian Rockies is extremely strong and a visit to Vancouver will inevitably lead you to take more than a passing interest in what lies just beyond the city limits. Mountains, glaciers and some incredible lakes and rivers all make an exploration out of town one of the absolute highlights of any tour and if you're fond of hiking or finding out more ideas for an organised tour then check out companies such as Grand American Adventures for more inspiration.
Baden Powell Trail
This is one of the ultimate trails in British Columbia and definitely a great way to get fit and healthy whilst visiting Vancouver. Stretching for around 30 miles and featuring several forests, rivers and the impressive Lynn Canyon suspension bridge, the Baden Powell Trail is one of the best maintained and easy to follow trails in the region which all adds up to an excellent day's work if you're feeling fit and able. Route: Horseshoe Bay (West Vancouver) to Deep Cove (North Vancouver).
White Water Rafting
If you've ever felt inclined to don a buoyancy aid and crash helmet before gripping a double headed paddle tightly in both hands then you simply must give the white-water rapids of the Canadian Rockies whilst you're spending time in Vancouver. Fraser, Stein and Kicking Horse rivers are all relatively close to the city and as this area is commonly considered to be the capital of Canadian rafting it would be rude not to give it a try at least once – paddles up dude!