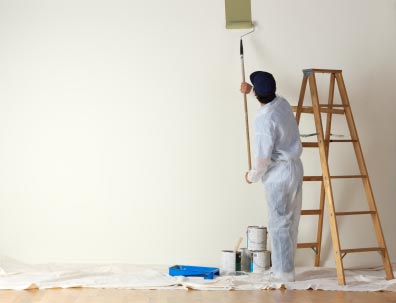 In today's world, people are spending less and less time with their families, choosing instead to use the computer, video games or other technology. There are many home projects that can be done together as a family, so shut off the electronics and get back to what is most important, spending time with your family. One project that is almost guaranteed to bring a smile is using paint. There are many different things that can be painted to bring a change to a family home, from small items like jewelry boxes or pots for plants to large walls or canvases. While the benefits of family time has many benefits, painting can also aide in your health as painting has been proven to be therapeutic. Whether it is painting a doll or a picture, painting has the ability to help you get away from reality. This is used as an aspect of stress relief and emotional stabilization.
Before you get started on a home painting project, you need to plan what it is that needs to be accomplished. When you have selected what you want to complete, check your home inventory for the supplies you need. You can write out a list of the supplies that you will need and take a family trip down to your local craft store to pick up the items. Once you are ready to begin, set up a clear and clean workspace, and get to painting! For example, if you want to paint a garage door, make sure the paint is not spread too thin. If another coat is needed on the garage, be sure to let the garage door dry completely. Once the door is completely dry, follow the previous steps to accomplish the work. For example if you are painting a garage door,
–          Select a metal based or metal compatible paint
–          Purchase the needed tools for the job
–          Prepare the areas around you work area to insure quality work
–          Use the correct size brush or roller for the job
If you are painting to do any smaller projects, be sure to understand how to complete this task successfully. There are many resources online to research how to complete many tasks. If you are planning a birthday or a celebration of some sort, an arts and crafts day is a great idea! Whether it is kids or adults, finger painting or flower pot decorating is a fun activity. In order to make an activity like this successful you need to plan what and how you can make this activity flow smoothly. Setting up separate tables or stations for this project will help the project flow with ease. Use the following steps,
–          Estimate how many participants there will be
–          But the supplies needed for activities such as paint, brushes, little planter pots, glitter etc…
–          Paper towels and or napkins for cleanup
–          Purchase items to go into the little planters
Then sit back and watch your items dry and admire your work!
Are you looking for the commercial painters Brisbane? Visit the website of the Excellent Painters.