Freedom Of Speech And The Internet: A Complicated Relationship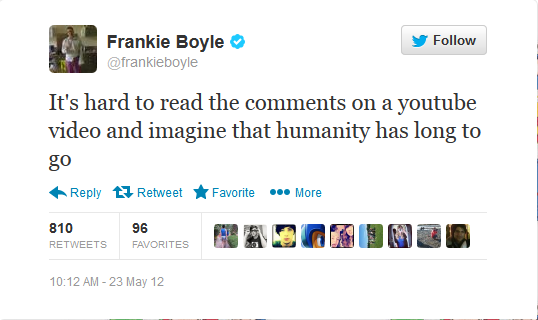 It is safe to say that if you open yourself up to the online world, you are going to bear witness to some pretty shocking stuff at some point of your online existence. And if you are a blogger, a filmmaker or an online journalist, there is a very good chance that your blog posts, social media accounts, YouTube videos or online articles are going to be defaced with derogatory comments, either about you, the subject matter or via arguments between users.
YouTube comments are some of the most horrendous posts you can find on the internet. A mixture of misogyny, racism and aggression, most of the worst comments you will find on there often have little or no connection to the original video upload. It baffles and shocks you in equal measure. YouTube comments are also one of the best places for Godwin's Law, which has become a phenomenon of the internet age. Godwin's Law states:
"As an online discussion grows longer, the probability of a comparison involving Nazis or Hitler approaches 1."
Basically, what this means is that eventually, almost every online discussion becomes a comparison to Hitler or the Nazis. And if it isn't anti-semitic remarks, it is misogynistic remarks or attacks about a person's sexual preference or race. Even the controversial Scottish comedian Frankie Boyle Tweeted about it in May 2012, stating:
Online newspapers and blogs such as the Mail Online and the Huffington Post are also rife with these comments, which begs the question: Why aren't these comments regulated better? Surely even freedom of speech has its limits, especially when it comes to threatening rape and violence towards a person, or attacking their race, religious beliefs or gender?
You can argue both ways. There have been instances where people have committed suicide because of cyber bullying, and the majority of trolls are just people trying to provoke a response from people and create an argument online, with them posting a derogatory comment online, bookmarking the page and then coming back later to see if anyone has taken the bait and engaged.
I've been in the position myself. A Huffington Post article I wrote was attacked by a troll, and when somebody defended the article, the person was then attacked for their physical appearance and for being gay, despite neither their physical appearance nor sexual preference being available for anyone to see. When I clicked on the user's profile, they were using a fake name and had written over 1,000 comments over a variety of posts. All of them negative or offensive. Should the Huffington Post have taken this user's profile down? You could argue yes or no. The freedom of speech versus censorship debate that has never been more present than in the internet age.
The argument for non-censorship – regardless of how cruel or offensive the comments are – is that the need for free and open debate and being able to defend your beliefs and comments is one of the wonders of the internet age. This is especially true of news articles, where commenters can discuss the topic with each other and pick up inaccuracies in the post and inform the writer of points they may have missed. This is extremely useful to all parties. Inform and educate: Isn't this the point of the net.
From a technological standpoint, there are ways to filter out the majority of the worse kind of comments, without actively censoring these pathetic people and wading into the freedom of speech debate. The likes of the profanity filter and video moderation has enabled web users to filter out the worst kind of web content, and the likes of Facebook, Google and online newspapers and blogs like The Guardian and Huffington Post have made more of an effort to moderate comments and enable users to flag inappropriate comments and posts.
The internet is so vast, and the range of people who use it just as vast, that it would be like finding a needle in a haystack if you were to try and censor everybody and cut out every last derogatory and negative comment that comes online. The relationship between freedom of speech and internet is in its infancy, and more than a little complicated. The best that we can do is try to think before we post, and try not to bite when people head to the web to pick a fight. It's the only way to show these people that their behaviour is puerile and sad.