Discover the Beauty of Yellowstone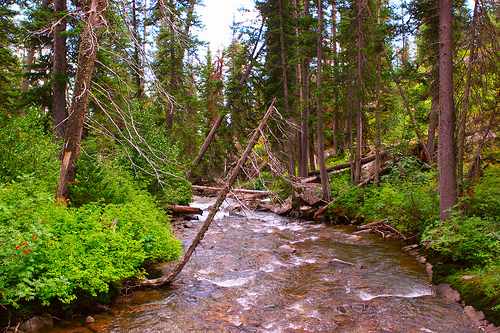 Yellowstone is one of America's best-known, and best-loved, national parks. It straddles nearly nine thousand square kilometres, the park being mainly in the state of Wyoming, but also accessible in Montana and Idaho. Comprising many intricate ecosystems, Yellowstone is home to thousands of species of animal and plant-life, as well as many unique geographical points of interest such as waterfalls and geysers (over half the world's hydrothermal features are in Yellowstone) including the legendary Old Faithful, which erupts with a huge plume of boiling-hot water hundreds of feet in the air every ninety-one minutes or thereabouts. But Old Faithful is just one of many reasons that Yellowstone is such a draw to visitors, who number close to three million a year.

Great activities
Depending on the season you visit, you can expect to see and experience all the different aspects of the park. For instance outdoor sports enthusiasts, such as hikers and mountain-bikers, will naturally need to know that most trails are open during the summer and autumn months. Several sections of the park are car-free and reserved for those on foot or two wheels, and there are also dedicated campsites available for them. There are hundreds of miles of trail to be explored, either at breakneck speed, or at a more sedate pace taking in the glorious surroundings.
Summer sunshine
Summer of course is also the busiest time to visit, and if you can go during off-season then do – campground rates are far less expensive, and you'll have a lot less traffic to contend with. Winter in Yellowstone is staggeringly beautiful, with snowy landscapes and steaming geyser basins. There is less opportunity to hike, but then, this is ski season. There are several resorts in the park, such as Jackson Hole, where you can hire skis and boards and join a cross-country expedition.
Winter time
Winter also means that one of Yellowstone's other big attractions, the fearsome grizzly bear population, is in hibernation mode. Visiting at other times of the year means taking extra precautions around areas of bear habitation, like keeping food off the ground and away from tents. But if you're there in winter you can still expect to see lots of wildlife wandering around, including bison, moose, elk, cougars, raccoons and grey wolves, so bring a camera.
Follow the leaves
The autumnal months, or Fall as they're known in America, presumably because of the trees losing their leaves, are a popular time for many photographers to visit. Although the weather can be unpredictable, there are fewer people around, most trails are still open, the scenery encompasses many vivid hues of colour, and it's a great time to see bears preparing for hibernation. Fall fishing is a pleasant pastime, with many lakes and rivers offering plenty of opportunities to hook a big one. Yellowstone Lake, in the centre of the park, is one of America's largest freshwater lakes, and anglers will often see bison or bald eagle from their boats.
Family-friendly things to do
As a family holiday destination, Yellowstone is unbeatable. There are endless opportunities for picnics, shorter or longer hikes, and spotting fascinating animals that kids and adults alike will love. You can visit bubbling mud pools and huge flowing waterfalls, and even let the children take part in the park's Junior Ranger programme, whereby they explore the area and fill in activity books with their discoveries, deepening their understanding and appreciation of the natural world.
And for walking holidays, there are few places in the world that can rival Yellowstone's range of attractive landscapes, flora and fauna and ease of getting around. Well-marked and well-maintained trails, plenty of spots to eat or camp, and no shortage of staff around to help you if you lose your way – what's not to love?