5 Steps to Get Yourself Prepared For the Real Business World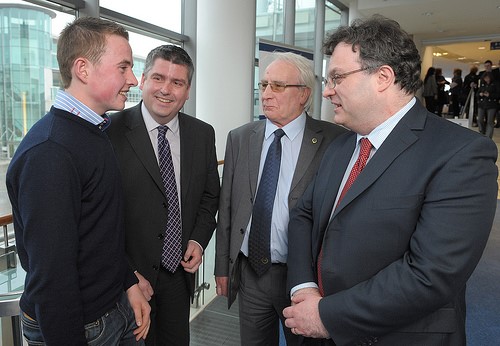 You've graduated from high school and you're intent on becoming a productive and successful member of the business field. You want a fast-paced office environment where you can make big decisions and produce noteworthy results. However, you're not sure how to prepare for all of its realities.
You're smart, driven, and a team player. You know that you have what it takes to excel once you're hired on with a company. The problem is, you don't know what road to take to get there. Here are some steps you should consider when preparing for a career in the business world.
Step 1: Consider Your Career Trajectory
Not everyone seeks higher education right out of high school. That doesn't mean they won't have luck finding entry-level business jobs.  By starting at the bottom of the ladder, you'll acquire some basic skills and knowledge. This will build your resume and make you a more attractive candidate to bigger companies.
Think about the business owners you may know. Even restaurants, retail stores, and mechanic shops can use assistance with business responsibilities. Once you land a job, make it your duty to continue learning. After you've mastered aspects in accounting, move onto working with outside vendors and creating business plans. The more tasks you master, the more valuable you'll be.
Step 2: Aim For a Bachelors Degree in Business
Although a college education won't immediately grant you a business dream job, it's a wonderful way to learn the true foundation of business. When you're thinking about the program you'd like to join, it's wise to speak to your college career counselor. They can help you decide what area of business you'd enjoy the most.
While you're working towards your degree, join business related clubs and organizations at your school. For instance, if you're earning a Bachelor Degree in Business Management from Potomac College, you may want to join their Professional Management Association (PMA). This will allow you for further business growth and insight outside of the lecture hall.
Step 3: Consider Pursuing an MBA
Perhaps you want to be the master of your particular business craft. Maybe you just want a leg up on the competition. Extending your education to the grad school level may benefit you in finding jobs and negotiating salaries. However, obtaining a Master's degree can involve both an investment of money and time.
You may want to see the types of jobs you can get before signing on for another two years of school. A lot of companies will pay your MBA tuition too, and scholarships are also available.
Step 4: Boost Opportunities with Internships

A lot of schools don't require their business students to complete an internship. However, it's an excellent way to build your resume before graduation. Get a head start on your peers by applying for internships during your junior year.
It's possible that the company you intern for will hire you upon graduation. If they don't have open positions, they'll likely send you over to other companies for hire.
Step 5: Get Ready For Office Culture
When you've scored your first business job, it's important to prepare yourself for office culture. Expect to wear a suit every day and work longer than eight hours on most days. Get ready to meet tons of influential peers and supervisors in the office too. It will take some time to get comfortable. Just make sure you're making an effort to stand out from the rest, and you'll likely see promotions in your future.
Working in the field of business can be very demanding and thus, very stressful. As long as you stay focused and put in your best effort, you'll see the many rewards your career has to offer.
Author Bio:
Leslie is a freelance writer who focuses on business related topics.