5 Ideas To Make Your Trip In Pisa Unforgettable!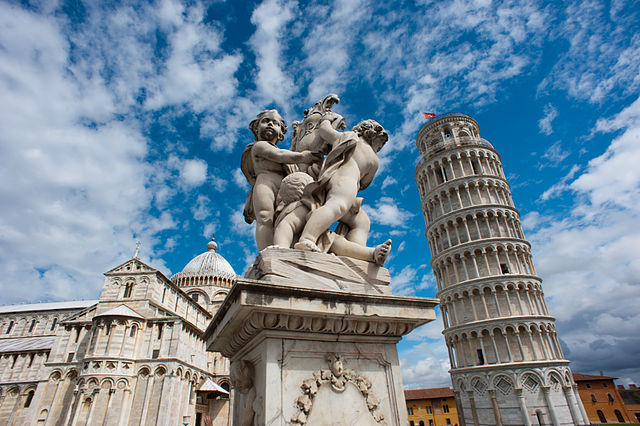 Dream of the most spectacular weekend in your life?
Make your dreams come true in Pisa!
If you are going to visit Italy in your next vacation, why don't you try Pisa? Wait! Just don't say that there's nothing to do in Pisa except climbing up the famous Leaning Tower! Of course, this is like a visit card of the city, but there are a plenty of other things in Pisa which are worth your attention! Beautiful landscapes, gorgeous museums, theaters, galleries and romantic sites – you can find everything for the best vacation in your life! Don't believe? Ok! Let's check out several good ideas for your trip right now! Just grab a bit of money, get a rental car, then set the position in your GPS navigator and relax!
1. Try to Prop the Pisa Tower!
Location: Piazza del Duomo, 56126 Pisa, Italy
GPS Position (parking): 43.724839, 10.398345
Length of visit: 1-2 hours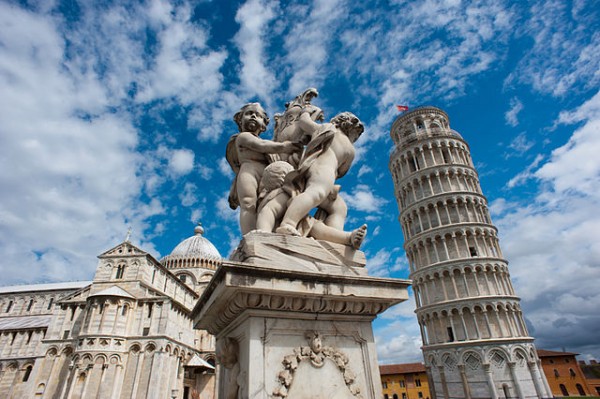 As you know, Pisa's Leaning Tower is one of the most recognizable attractions in the whole Italy! With the height of 56 meters, it's prepared over 294 steps for you, so climbing the tower is quite heavy and full of extreme sensations! And if you're interested, you can try to prop the tower with your finger, hands or even your body…of course on the photo!
Admission: 18 € for person
Hours: daily March-October: 9am-7pm., November-February: 9.30am-5pm., April-September: 8.30am to 8.30pm.
2. Relax at the San Rossore Park!
Location: Localita' Cascine Vecchie, 56122 Pisa, Italy
GPS Position (parking): 43.723079, 10.340033
Length of visit: 2-3 hours
This is a great solution to have a picnic or just relax! A visit to San Rossore Park will help you to forget about everything and enjoy the leisure stroll among the gorgeous trees. In the summer time you can go to the beach or ride a horse. The park has a very natural environment, so you have a great opportunity to meet different wild animals here, even a deer!
Admission: free
Hours: recommended 10am-4pm
3. Feel the Real Taste of Italian Cuisine!
Location: Via Mercanti, 25, 56127 Pisa, Italy
GPS Position (parking): 43.717477, 10.403985
Length of visit: 1-2 hours
Everyone knows that Italian cuisine is known for its unique and unmatched taste! But not all of Pisa's restaurants offer delicious meals and quality service. We can recommend you Osteria di Culegna, which offers meals of national cuisine and has very cozy atmosphere inside. So, if you get hungry, don't miss it!
Price range: 15-50 €
Hours: daily 11am-10pm
4. Walk along the Promenade of the Arno River!
Location: Lungarno Gambacorti, 56125 Pisa, Italy
GPS Position (parking): 43.715791, 10.399487
Length of visit: 1-2 hours
Promenade of the Arno River is a real paradise for those who like to explore different parts of the city or just to relax sitting on a bench. Fresh air, stunning views and romantic atmosphere will give you unforgettable feelings. By the way, the best time to enjoy it is early morning or during the sunset.
Admission: free
Hours: 24/7
5. Explore the Bath of Nero!
Location: Largo del Parlascio, 26, 56127 Pisa, Italy
GPS Position (parking): 43.722267, 10.402154
Length of visit: <1 hour
Located nor far from the Piazza dei Miracoli, Bagni di Nerone (the Baths of Nero) are an important archaeological site in the center of Pisa! This is the last monument of the Roman Pisa still standing. It's often ignored by tourists who focus their attention on the other attractions of Pisa, but be sure that this site is worth a visit!
Admission: free
Hours: recommended 10am-4pm
How to get a Rental Car in Pisa?
It's very easy to get a rental car in Pisa! Besides, a rental car is the most convenient and affordable way to travel around the city. You won't need to wait for taxis or buses! Just get a rental car and save your time, money and nerves! Don't know where to pick it up? Ok, check out http://italy.rentalcars24h.com/pisa-airport-galileo-galilei and choose any car you want!
Enjoy the best weekend in Pisa!
Author Bio: Lily Berns is a travel writer and she likes to share with interesting recommendations of visiting different places through her publications.