Why Prefer Professional Carpet Cleaning In Phoenix Over DIY Cleaning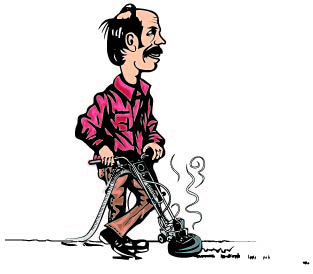 The soft and fluffy carpet under the feet in your room offers the feeling of walking in heaven. It provides an elegant look and speaks for your lavish lifestyle. Though laminated and hardwood floors require less maintenance as compared to carpeted area but carpeting gives you an unmatched lush feel and this why homeowners choose to carpet their flooring.
However, regular carpet cleaning is essential to maintain the integrity of carpet. The annual carpet cleaning by trained professionals is highly recommended to keep your home clean. In fact, an appropriately maintained carpet is the key behind luxurious environment at home and offers healthy living.
Carpet Cleaning at Phoenix
Overtime dirt accumulates on carpet which can leave it looking unsightly. This is a major problem especially here in Phoenix. Vacuuming the carpet regularly is a good option to keep your carpet clean in-between professional cleaning. Steam cleaning is required to keep your home neat and free from germs but only few home owners have the zest and extra energy to do so. Even the equipment provided at the nearby store may not have enough power to clean the carpet thoroughly.
Trained carpet cleaners can easily handle this problem as they have the expertise and equipment to check this problem. Discoloration of carpet is another problem which is caused due to exposure to sun. Even a trained professional has no solution for fading as it only be rectified by carpet dyeing professionals.
Installing carpets which have low moisture resistance are quite effective due to dry climate here. But Do-It-Yourself (DIY) cleaning practice of carpets must be avoided as the equipment provided by hardware store lack the required power and strength. The commercial grade equipment used by professionals has the capability of high pressure cleaning which increases the life of your carpet.
The carpets cleaned with rented equipment take longer period to dry which results in various damages caused by moisture. This further increases the risk of foul odor and mold production. Besides, before starting the actual cleaning work the expert professional cleaner will examine the fiber of the carpet.
This helps him select appropriate cleaning solutions and modifying the protocol of steam cleaning. However, as most homeowners are not aware of using appropriate solution, they only end up worsening the condition of their carpet, hence expert cleaning should be best left to professionals.
Cost of carpet cleaning in Phoenix
The carpet cleaning in Phoenix is cost effective solution for your beautiful well maintained carpets. Usually $200 is charged for cleaning services but some carpet cleaners take projects as low as $100 and $150. The cleaning cost usually includes transportation of cleaning equipment to your house as well as labor charges.
Generally an average project takes couple of hours to complete the job. Combining other odd jobs with carpet cleaning makes it costly but the over-all result is remarkable. This may include cleaning and sealing of tiles, or upholstery cleaning along with carpet cleaning. Combination of jobs offers amazing result with extra expense.
However, some companies may offer good discounts if you club other cleaning jobs. Hence adding odd cleaning jobs with carpet cleaning makes it cost effective and makes your work hassle free as you need not call other contractors for every job separately.
One should opt for professional cleaning once a year to keep your home beautiful and elegant. This also makes your home germ and allergy free for healthier living. A professional cleaner in Phoenix can do wonders with your carpet in transforming your carpet to a near new. However, make sure you are choosing a trustworthy Phoenix carpet cleaner who delivers as promised.
Featured images:
License: Creative Commons
image source
Jerrod Lack advocates professional carpet cleaning over DIY cleaning. He says, professionals have the equipment, knowledge and the experience to carry out cleaning process. In case of DIY cleaning, homeowners end up worsening the condition of carpet in the absence of proper knowledge and equipment. For more information on professional carpet cleaning in Phoenix, Click Here.