Where To Eat And Sleep In Islamabad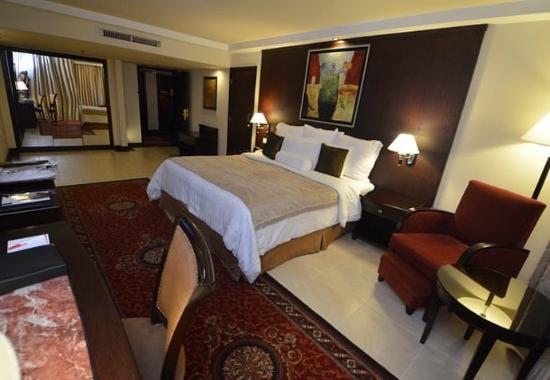 If you want a little stimulation added to your vacation, you might want to think about some of the less visited areas of the world, places that are not choked full of tourists or tourist traps. Then let me suggest Islamabad as a prospective vacation spot.
The idea may seem intimidating to anyone who knows little about Islamabad and has only read warnings over the Internet, telling the general public to avoid planning any unnecessary trips to Pakistan. It is definitely prudent on the part of a foreign tourist to avoid going to the tribal belt and locations nearby, but the warnings usually sound so foreboding that they scare the average American or even European tourist. In addition to being safe; the serene, peaceful city of Islamabad is an ideal location to spend a few days.
The city boasts a few five-star and four-star hotels, as well as countless guest houses in the posh and medium-priced sectors of Islamabad. The rents range from $200 USD per night (in five-star hotels) to a mere $35 USD per night for board in one of the modestly furnished guesthouses in the G sectors of Islamabad (G-6, G-7, G-9, G-10). In the more elite F and E sectors of Islamabad, guesthouses charge around $80 USD to $100 USD per night. This gives tourists plenty of options to choose from.
One can find all the accomodations that one would want in a reasonably affordable guest house, including three meals a day, air conditioning, wi-fi and cable TV with 90 plus channels, but we hope that you won't have the desire to switch on your TV as you will have many other exciting things to do.  Pick-up and drop-off from and to the airport, as well as car rentals, are also arranged by these guesthouses and hotels.
We recommend that you stay at a guesthouse rather than a hotel, because guesthouses offer a homey atmosphere. One of the advantages of a guesthouse is that if you choose not to take meals in your room (no extra charge for that, by the way) you will likely eat at a common table with other patrons, giving you an opportunity to sit and converse with them. You will definitely enjoy the light-hearted banter and sense of humor of other patrons during such meals. The meals end with qehwa (green tea) rather than coffee.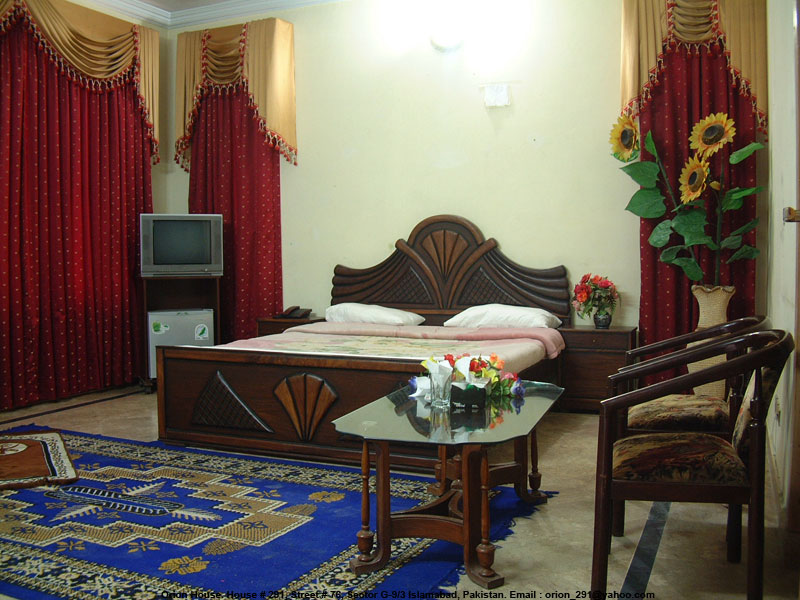 Places to Explore  
The city offers tourists many exciting places to visit.
Pir Sohawa: is a resort on top of the Margalla Hills, which gives a bird's eye view of the city. If you visit Pir Sohawa at night, the city looks mesmerizing.  This spot was turned into a resort by the former President Musharraf, who used to come and eat at a shack-like hotel on the hilltop, famous for its traditional cuisine.  Now there is a grand restaurant on the top, designed like a ship's deck, named Monal. The place is famous for offering mouth-watering continental food accompanied by live musicians playing classical music on tabla and harmonium.
Said Pur Village:  Another beautiful place to visit is the Said Pur village, turned into a resort. The restaurants there have heavily carved wooden doors and low string cots covered with hand-embroidered sheets. The whole ambiance is enough to transport you to a world of fantasy. It also has a temple where the Hindu population of the village worshipped a century ago.
Fishing, Hiking and Boating!
Don't leave your fishing gear home as Islamabad has the famous Rawal Lake, where people go for fishing and boating. The beautiful Margalla Hill Tracks have been made for adventurous souls who have a love for hiking. We are sure that you would also feel tempted to sling your backpack over your shoulder and explore these hills and the labyrinthine tracks on foot. It is said that one or two human-friendly cheetahs also prowl in the jungle close to the tracks.
Lok Virsa (The Cultural Museum)
It is the cultural museum which gives one a peep into the cultural heritage of Pakistan and all its four provinces. The life style and culture of the various regions of Pakistan are depicted in the form of statues, handicrafts, pottery, music and paintings. Nearby is the Virsa Café, which offers a variety of local and deliciously spicy cuisines. Recently, a cultural festival was arranged in the museum, which attracted the attention of foreign tourists and locals alike.
Café 1969–An Interesting Place to Dine
It will be fun to just go out and dine in the modern restaurants of Islamabad, making you feel like you are back in your own country. Meals should be coupled with some fun and excitement and Café 1969 promises you all that. The Café has a unique ambiance, which takes one back to the Pakistan of the 60's and its cultural revolution. The cuisine is Pakistani continental food, which is delicious beyond words.
Delicious Pakistani Cuisine
One of the things which interests a foreign tourist is the local cuisine of the country you are visiting. You will find a wide variety of foods to choose from in Islamabad. The foods are spicy but usually served with yoghurt for those who eat mild spices. Roasted meat is considered a specialty. Pakistani sweets are prepared quite differently from American and European desserts and we hope that you will enjoy the syrupy and colorful sweets and desserts, if you are not too weight conscious.
Other Places To See
Other places to visit are the Faisal Mosque (a marvel of architectural expertise), the Pakistan Museum of Natural History, the Taxila ruins situated at an hour's drive from Islamabad, and the Rose and Jasmine Garden, where floral shows and competitions are arranged.  Murree, a hill-station is also located at an hour's drive from the city.  The twin city Rawalpindi has ancient bazaars (Raja Bazaar, Moti Bazaar and Sadar Bazaar) where a wide variety of traditional clothes and shoes are available at reasonable rates. But we will not advise a tourist to go to these bazaars unaccompanied, as anyone can easily get lost.
Nightlife in the City
The city goes quiet after 12 except for a few private parties which go long into the night. At the Marriot Hotel, dance lovers frequent a disco named Bassment. There are bars in every five star hotel where liquor is available. If you crave ice cream or coffee after dinner, there are places like Hot Spot, Gelato Affair (for ice cream), Mocca Coffee and Gloria Jean's (for desserts and coffee).
Islamabad from a Tourist's Perspective
Mr. Larry J. Burke is a resident of Kentucky, United States,who visited Islamabad a couple of months ago. He shared his experience with us in these words:  
In spite of the warnings from the various state departments, I visited Islamabad back in Sept. 2013. I stayed in what's called a 'Guest house', and I can say unequivocally that I was treated admirably by staff and patrons alike. I even made friends with whom I still correspond via email. Granted, one should watch themselves while there and heed the advice given by the state dept. But if you leave your paranoia at home and open up to these folks, you will find acceptance and a warm welcome.
Ideal Season to Visit
The best time for tourists to visit Islamabad is from late September to April. The weather then stays very pleasant and even the winters are not harsh. The temperature in December and January drops to minus 1C (33.8F) or 2C (35.6F) at the most and stays between 0 (32F)-2C (28.4C) degrees usually. For foreign tourists, this can be an ideal time to explore Islamabad. The stifling heat of summers will be too unbearable for an American or European tourist. But sadly you will miss the mango season and the succulent, sweet mangoes which are a specialty of Pakistan.
Warnings for a Traveler:
Hire or not to hire a cab?
It is best to rent a car or ask your hotel to provide you with a pick-up and drop-off services to see the various sights in Islamabad. To any avoid unpleasant incidents, even though cabs are easily available and are fairly cheap, we don't advise tourists to take them.  Cab drivers usually do not speak English, which can be a big hurdle in communication. It is also better to have a local guide who can serve as an interpreter.
Avoid pickpockets in crowded places
Don't carry much cash and beware of pickpockets in crowded places. It is better to use traveler's checks during your stay. Make sure that your room key is with you all the time and don't hand it over to anyone in the hotel when you go out.
Insect bites and anti-allergy pills
Make sure that you bring or buy insect repellents for your stay. Make it a ritual to apply   them in the afternoon and before going to bed. Prospective tourists should be on their watch for a dengue fever alarm from July to October. You should avoid going outdoors unnecessarily at dawn or dusk, for the dengue fever mosquito is usually active at these times of the day. Keep anti-allergy pills in your first aid kit.
Avoid strolling alone while hiking
When you plan to hike, keep a compass and a flashlight with you. To avoid any unpleasant situation, it is best to take your guide with you when mountaineering, trekking or hiking.
Having an international driver's license definitely has its advantages. But you will find the driver's seat on the right side here and you might find it inconvenient. If you find it difficult to drive, you always have the option of using the pick-up and drop-off service.
Hire an Interpreter
Urdu is the national language, spoken and understood by everybody in Pakistan. Although the majority can understand and speak English, they will often find it hard to comprehend your foreign accent. Therefore, it is recommended that you hire an interpreter for smooth communication with the local people, especially while sight-seeing.
Featured images:
 

License: Image author owned

 

License: Image author owned

 

License: Image author owned

 

License: Image author owned

 

License: Image author owned

 

License: Image author owned

 

License: Image author owned
By Sarah Detlef
Sarah Detlef enjoys blogging about uncommon vacation destinations.  She provides Spanish document translation services, teaches students in the U.S. and China and speaks 4 lanaguges.  In 1990 she started the translation and interpretation company of 24HourTranslation.com.