What's That Thing Called? All You Need to Know About Your Car's Lift Struts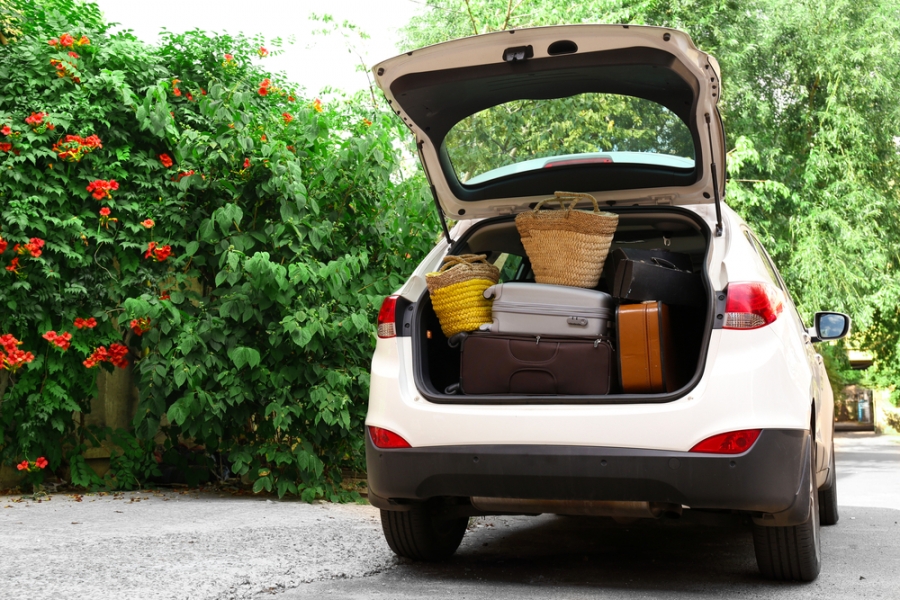 Imagine you're out for grocery shopping or a weekend outing with family, and you need to load your shopping or outdoor gear into the trunk. Then you realize that those two lift struts that hold your car's trunk open are failing. Maybe you had a hint of this before, but you've been ignoring this "small failure."
These struts help lift and hold open trunks, hoods, hatches, and even glove boxes and rear SUV windows. They're an excellent convenience feature in every car. But the truth is, when they fail or get damaged, the inconvenience of having to hold the trunk, hood, or hatch every time can be frustrating, especially when you're in a hurry to get stuff loaded up. Doing your usual car fluid checks can also be frustrating when your hood lift struts are not working correctly. In this article, you're going to learn everything you need to know about your car lift struts.
What is a Lift Strut?
Lift struts are also known as lift supports, gas struts, or gas springs. Don't be surprised if you didn't even know what they're called — that's why it's vital to learn more about your vehicle. Now to the definition — a gas strut is an energy storage device that creates energy by compressing gas inside a cylinder. When the strut is opened (say by lifting your car's hood or trunk), the energy is released to raise or open the hood, trunk, hatch, or liftgate, holding it safely open.
Many people confuse lift struts with shock absorbers or struts in cars, which also absorb energy precisely to control motion. Lift struts or supports usually store a gas charge of up to 1500 psi, so they can't be compressed by hand. Unfortunately, by design, lift struts start failing over time until they no longer work.
How Do Lift Struts Work?
Most vehicles today use pneumatic lift supports to hold open hoods, trunks, liftgates, and hatches. These lift supports are typically filled with inert gas at several 100 psi, which provides the necessary force to lift and hold that trunk you use every day easily. The lift struts also have some oil for damping purposes. Otherwise, your liftgate, hood, or trunk would open abruptly, making it a potential safety hazard.
There's also a multiple-lip seal that often rides along the strut's chrome damper rod. It's vital always to keep the damper rod's highly polished surface clean, as even dust and small particles can quickly cause wear and reduce the struts operational service life. Over time, the inert gas and oil inside the lift strut will decrease significantly, which means having lift struts that no longer work. When this happens, you need gas strut replacements.
Common Signs of Failing or Damaged Lift Struts?
Lift supports work pretty much the same way — when you open the hood, trunk, liftgate, or hatch, they extend fully, thanks to the immense pressure created by the inert gas inside the gas strut cylinder. That is what makes it possible to support the full weight of the lift support systems in your car safely.
When your lift supports start failing, you'll start experiencing problems when lifting and closing your trunk, hood, or liftgate. Here, we'll share some of the common signs to look out for when it comes to gas strut operation and condition so that you can avoid last-minute frustrations.
Slow lift strut collapse — The first sign you'll likely see is slowly collapsing struts when you've fully extended them. This happens when the seals in the strut cylinder wear off and start causing gas leaks. When this happens, your gas struts can't hold the weight of your trunk, hood, or hatch. This slow collapse happens gradually until they no longer work.
Sudden closure when lifted — If you're raising your trunk, hood, liftgate, or hatch and it suddenly closes without warning or physical support, then you have damaged lift struts. This is caused by excessively worn seals or other damaged strut components. This situation can be risky for anyone unaware of the non-functioning struts as the hood or trunk could shut unexpectedly and cause harm.
Trunk, hood, hatch, or liftgate won't stay up at all — If any of your lift support systems can't stay up at all, you have a problem that needs to be fixed immediately. Lift supports or struts are designed to function for years, but they don't last forever. Look out for red flags like damaged mounting brackets, support connectors, and fluid stains around the piston.
How to Take Care of Your Gas Struts
There are few precautions to keep in mind when handling lift struts during replacement, storage, or even when operational.
Do's
When installing or storing lift struts, keep the piston rod facing downwards to ensure the seals remain lubricated
Use the recommended ball joint fittings and end fittings and ensure they're in line to avoid side load forces that may damage the struts
All gas strut components should be correctly installed
Ensure your gas strut piston rod stays away from debris and contaminants — wipe off any dust with a soft dry towel
Don'ts
Don't overextend or over-compress your gas struts
Don't scratch, chip, grip, paint, or bend your lift struts during replacement
Don't lubricate your lift struts as they come already lubricated
Don't puncture the lift struts in any way
Don't open and close your gas struts more than 15 times a minute
Never attempt to re-gas or re-fill your lift struts — this is hazardous
How to Install New Lift Struts in Your Car
According to Lift Supports Depot, searching for and purchasing the right lift supports or gas struts for your car is essential. So take your time to check the extensive inventories online to find the perfect replacements for your vehicle make and model. Once you have the right replacement lift struts, it's time to install them. You can do it yourself and save money and time.
Home tools you need:
A flathead screwdriver
A socket and ratchet set
Here are some quick and straightforward instructions to follow:
First, confirm that you have the right lift struts for your car — check end-to-end dimensions and ensure all components needed for installation are available in the delivery box you received.
Open your hood, trunk, liftgate, or hatch to the maximum height allowed. Don't be tempted to prop the lift system, as this is risky. Instead, use a clamp or have someone hold it up for you as you replace the struts. An extra hand and eyes are always better.
Use a flathead screwdriver to release the clips that hold the lift struts in place. This will disengage the lift struts. There are different types of attachments, including bolted fasteners, clevises, and brackets. If you encounter any of these, you should use a socket wrench.
After removing both lift struts, you will see a fastener that connects the gas struts to the body of your vehicle. Use the correct socket and ratchet pairing to pull the ball off the lift strut from the joint. This makes it possible to remove the gas struts from your car. Go ahead and clean the contact points on both sides to get rid of any dirt, dust, or contaminants.
Now that you've removed the lift supports, it's time to install your new lift struts. Attach each gas strut to the points of attachment on your car. Don't tighten the struts just yet. Apply some pressure using your fingers to snap the struts right into the top ball joints. After that, you can now tighten the screws carefully to ensure a snug fit onto your car. Don't over tighten as that could damage the struts.
Repeat the procedure to remove and install the second strut on the other side of your trunk, hood, liftgate, or hatch. Once you've replaced both struts, test to see whether they're working correctly. They should operate smoothly and support the weight of your car's lift system with ease. And now you're done and ready to enjoy the convenience of your new struts. Don't forget about other regular car maintenance steps.
Lift Struts are a Convenient Car Component
Lift struts are perhaps one of the most underestimated car accessories. With this guide, you should now have a pretty good idea of what lift struts are, how they work, and how to remove old ones and install new ones.