What To Get Dad For Christmas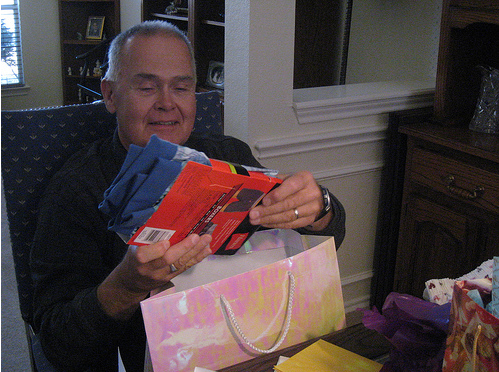 It has to be said that knowing what to get dad for Christmas is sometimes like unearthing the holy grail of presents as a laid back attitude to pretty much having everything that he already needs often entails that if he won't tell then how do we know?
The answer is most definitely not even to bother to ask as by just watching this noble beast away from work time will enable you to instantly get a feel for what he's secretly longing for and doesn't even know it.
Below are just a few ideas to get you started and if you've been saving up your pocket money all year just for this one special occasion then read on and prepare to put a smile on the old man's face.
Underwear He Really Wants
Now, I'm not talking pants and socks that you'd get from the market or M&S, what your dad really wants in the underwear range is something that he's really going to use. Football socks, ankle socks and uber trendy tight fitting long sleeved vests are all the rage for the active dad and just by delving a little into that oh so treasured underwear draw you're bound to find plenty of other things that he clearly needs to bring him bang up-to-date.
Toiletries
Very easy to opt for a massive bottle of Brute on the 25th but you won't get many dads considering this as something they're looking forward to splashing on. Facial moisturisers, Aussie shampoo and a solid block of expensive soap is exactly what you're modern man is craving and if you can do a little bit of research and find out what aftershave gets your mum's vote then you may get an extra hand with expenses.
Tunes
These days dads are less into Dolly Parton and Kenny Rogers and more into Kanye West and Jay Z. Best advice is to watch him when he's got 6 Music on and then try to play it by ear as to what gets his toes tapping and his head bopping. Arcade Fire, The National and The Queens of The Stone Age are all great dad bands and if you're going old school then The Stone Roses, Ride and Joy Division have to be at the top of every cool dad's hit parade.
Reading Material
If your father's idea of reading involves the newspaper or the take-away menu then don't despair, he's probably lacking the time to commit to a book so you're going to need to break him in gently with an autobiography about someone he truly respects. Morrissey, Keith Richards, Harry Redknapp and David Jason are all big sellers this year so keep an ear out when your dad is waxing lyrical about someone or other and then buy the relevant biog.
Something to Watch
Dads like nothing more than putting their feet up and watching something manly on the box and if you can get him a film, concert or big match DVD then he's going to be happy and content for hours. The London Olympics, The Great Escape, Pink Floyd Live in Concert or the Cup Final of 1978, whatever floats his boat there's a DVD out there for him and if you think you can rely on the TV to keep him chilled out for an afternoon then think again. It's up to you now so choose right and choose well – good luck.
Tools
The modern dad is still in touch with his DIY side and if you can get him some kind of tool or gadget to make his life easier then you'll be half way to achieving present giving success. Best advice is to take a sneaky peek through his tool box and see what's looking slightly in need of repair or is on its last legs. Next step is to have a look around a big superstore like Wickes or B&Q and then see what catches your eye. Keep within your price range but if you can buy something small and expensive rather than large and cheap you should be in the right market.
A Holiday
Now this is something that every dad really longs for but is often too tied up to make it happen and if you can get together with mum and other member's of your family and present your old man with a plane ticket for all the family then he will be over the moon. American tours, European cycling trips and a few days visiting the vineyards of South Africa, this is obviously not for everyone but if you've got the cash and you want to really treat your dad this year then get the old fella a holiday he'll truly remember.
Man Food
Blokes, dads especially, love their grub and if you can put together a little hamper to say thanks for everything mate, then you'll be rewarded with maximum Christmas present karma points. Pate, cheese, coffee, port, cider, beer, nuts and ham are all mainstay dad favourites and if you can give him his gift on Christmas morning then you can guarantee he won't need another thing all day except for the odd mince pie and spoonful of brandy butter.
A Moment's Peace
Ha ha, obviously if your dad is the type of chap who's surrounded by people at work and overrun with kids when he gets home then a moment's peace is going to be right at the top of his Christmas list every day of the week. This is definitely something that you can give him with: playing quietly, taking the dog for an extended walk and giving him the remote control and pair of earphones as definitely a couple of ideas to set you on the right track.
Whatever you end up getting your father or father-in-law this Christmas, one thing is for sure, as long as you tell them you love them and give them a big old hug then there's not much else that they could wish for – happy holidays!