Visit The Light Show In London This April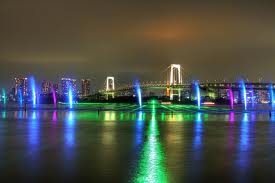 Light both as a concept and as a decorative tool has infinite possibilities and is a fascinating topic of study; not only do the various types of lights have the ability to immediately create an atmosphere but this skill is used in someway, somehow in every single industry today – be it film, culture, interior and even education.
Light is everywhere and it affects our life and mood. This month the Light Show comes to London, we look at the various types of light therefore and how they can mostly help but also hinder us.
Candle Light
This form of light energy certainly isn't bad for your eyes! The only negative impact of this arguably is that it can make those of us with poor eyesight need to strain a little more to see around us – the benefits of it are far more numerous. It's completely atmospheric, romantic, peaceful, and beautiful – plus any other adjective you can think of too.
One interesting point about candles and the candlelight they emit though when comparing these to the unnatural light emitted from light bulbs is that per unit, they are actually more economically unfriendly than the traditional light bulb! In reality we don't use nearly the volume required to have this effect but it's still an interesting point to note.
Day Light and Solar Power
This is the best form of light (unless you're having a bad day and want to hide in the shadows!), it's natural, illuminating and something so inspiring with regards to sunrise and sunset that it's been the backdrop for some of the most iconic movie scenes ever recorded.
Natural light gives us ample vitamin D to help our bodies function physiologically and in fact, more and more of us get a condition called Seasonal Affective Disorder (SAD) when we don't get enough sunlight, it also helps with other numerous emotional and physical processes too.
Additionally we are becoming better and better at harnessing the sun's energy for renewable purposes, using this to cleanly fuel our homes. Many residential properties now have solar panels on their roofs, partially incentivized by the financial gains as any additional light energy you harness that you don't use personally for your home you get paid for.
Fluorescent Light
Fluorescent light conjures up bright images of clubs and an electric atmosphere, it certainly does not inspire a serene and tranquil feeling and in fact, fluorescent lights have been banned in Germany at a Federal level.
Connotations of this type of light that aren't to do with entertainment are usually negative too – there have been numerous studies on the effect of light and in particular full spectrum lighting, which all make for an interesting read.
To Conclude
We hope we've piqued your interest about light as both an artistic and an essential concept used every day by all of us. The light show mentioned above will run at the Hayward Gallery at the Southbank Centre in London until May 5. Visitors will get to experience light in all of its spatial and sensory forms and each artwork (comprising of sculptures and installations) will explore various aspects of light such as colour, intensity, projection, perceptual phenomena and duration.
Prepare to be visually stimulated by each piece through the series of combined works created from 1960 to the present day. Read more information here.
Featured images:
License: Creative Commons
image source
Lucy visited the light show earlier in April and was blown away by both the innovative ways in which light energy was used and the sheer number of ways it was harnessed to create art. Candlelight was used in the show too – Lucy gets her candles from CandleKing, and is a fan of the larger pillar candles in particular.