The Perfect Archive Storage System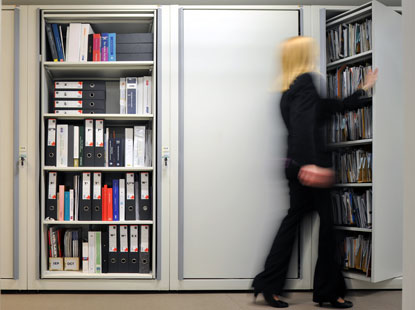 Principle 5 of the Data Protection Act (1998) requires companies across the UK to store personal information for no longer than necessary. While it does not call for companies to hold documents for a minimum or maximum time, it does require organisations to effectively dispose of employee details once they're no longer required.
An organised office storage system will ensure your company regularly reviews documents to decide what is needed and what is not. Failure to incorporate an effective archiving system will only lead to lack of productivity in the workplace, as well as stopping you from complying with your legal requirements.
Why Use Archive Shelving?
Archive shelving will ensure you compile your documents in a structured and controlled environment, so you will know where each document will be placed when you require certain information. Organised archive shelving will ensure that your company has up-to-date information at all times, so you won't confuse old files as new. Using inaccurate information could ultimately lead to numerous company complications that could have a significant effect on your company, so it pays to be organised.
What Should I Store?
You can store everything from employee contact details and business letter to important client files or invoices. The options are endless with archive systems. However, one way to ensure you're organised is to label each box so the document you need can be found in an instant.
The Right Size Shelving for Your Company
You should think about how many boxes you will require for the size of your company. As well as taking into account the size of your business at the moment, you should also look to the future. If you see your company growing significantly then you should ensure you plan ahead with extra office shelving. However, you can also opt for shelving that allows you to add or reduce your shelving systems as and when you need to.
High Quality Boxes
You will undoubtedly have a lot of documentation to store away, which is why it is essential you invest in some high quality archive boxes. Most high quality archive boxes will accommodate foolscap and A4 office files, and you can choose a variety of litre sizes to suit your needs. You should also decide whether you would like boxes with or without a lid, as many options can come with lockable features for additional security.
Where to Find Archive Shelving
If you want to invest in high quality archive storage systems and boxes, then you should look no further than a leading storage and racking company with extensive experience in the industry. Most reputable businesses will offer a selection of shelving designs, including starter and add bays. Look for a UK provider who offers high quality shelving at affordable prices, such as Action Storage.
Action Storage can also design an archive system to suit the exact needs of your company, and they will take into the account of the size of your preferred boxes, your employee size and the storage area.
So, if you want to create a functional and productive environment in your workplace, you should definitely consider archive systems. You'll be glad you did.
About the author – Sharon Fraser is a freelance writer based in the UK. She writes about a variety of topics, including home and work interiors, and uses websites such as www.action-storage.co.uk as inspiration.