The 2 Faces Of Indian Halwa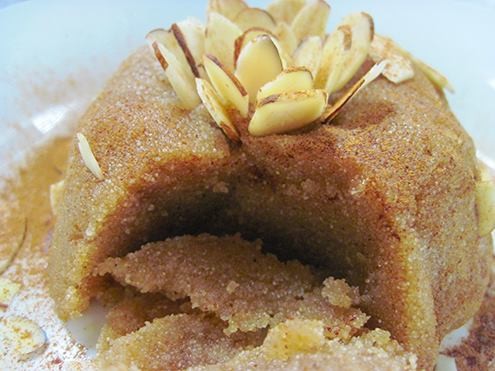 The extensive menu of Indian sweets that are created and consumed throughout the sub-continent could keep even the most dedicated dessert-lover supplied with sugary delicacies for many years, even if they were to sample a new recipe every week. From the silken decadence of the Indian ice-cream that iskulfi, to the irresistible crunch of gulabjamun, India's answer to a doughnut – the sweet delicacies beloved by this country have inspired the dessert menus at Indian restaurants all over the UK.
But there is one dessert in particular that experiences great popularity in India. However, it is a dessert of two faces that comes under one name – two dessert dishes that come under the collective name of halwa.
Halwa and variations of this sweet are enjoyed not only in India, but all over Asia, Africa and Eastern Europe. However, in India, halwa can be madeby two recipes. The first is a flour-based dish, a type of smooth, dense porridge, usually created from semolina, butter and sugar. This luxurious sweet is eaten with a spoon and offers a semi-solid, sugary texture – like a half-finished cake mixture (and who can resist that?). The second type of halwa resembles nougat, a crumbling sweet flavoured with fruits and seeds but made predominantly from nuts, ghee and sugar.
India is a vast country and as a result, a popular recipe may have several variations that differ depending on which state you find yourself in. Additionally, it is the home kitchens of India where the tastiest recipes can be discovered – recipes that have been handed down through generations and tweaked over time. There are many delicious different flavours of flour-based halwa to try, including moong dal kahalwa – created from mung beans – and the colourfulgajarhalwa – created from carrot. Kajuhalwa is a cashew nut version, popular in the southern states where creamy cashews are a key ingredient in many dishes. Satyanarayanhalwa, on the other hand, is flavoured with banana. Kashi halwa is made from gourd and is a traditional favourite in Karnataka, particularly at weddings.
In comparison, the crumbling halwa sweet is generally made from grinding seeds or nuts into a sticky paste before blending it with a hot, sugary syrup. Pistachio versions are popular in the northern states of India where this dense sweet enchants with its melt-in-the-mouth texture. However, there are a myriad of delectable flavours, from cashews and dates to the more exotic fruits such as coconut, pineapple and jackfruit. This form of halwa is one of the most iconic sweets of India and can be found in sweet shops throughout the states.
If reading this has awakened the desire for something sweet, why not book yourself a table at one of London's fine Indian restaurants? As well as a wide variety of spicy curries, aromatic rice dishes and sumptuous vegetable dishes inspired by authentic Indian recipes and brought bang up-to-date for the 21st century table, you will find a delectable choice of desserts. Just make sure you leave enough room!