Reasons To Visit Agra Fort With Palace On Wheels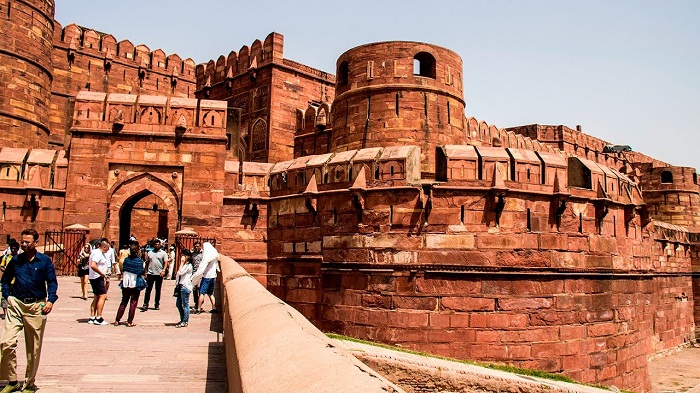 The Agra Fort dates back to the mid 1500s built by emperor Akbar over eight years of 4000 workers' effort. There are several impressive structures inside this walled-in sister fort of Taj Mahal. It was first constructed as the main residence for the Mughal Emperors and today many global visitors visit this UNESCO World Heritage Site. One of the best ways to visit this amazing massive fort is by the Palace on Wheels luxury train. There are guided off-board tour excursions and sightseeing experience of many tourist destinations including the Agra Fort on the itinerary. This is a must once – a – lifetime luxury sojourn to experience solo, with family or with friends.
Major Attractions of Agra Fort
This massive fort is situated on the banks of the River Yamuna in Agra. It is a semi- dome shaped structure with walls up to 70 feet high covering the length of 2.5 km. There are four huge gates but today, only one gate is open for public entrance and visitors. There are halls for public & private gatherings, courtrooms, significant palaces, royal pavilions, and places of worship inside the fort. There are special baths constructed with marble for the royal women, a jasmine tower, a grape garden, and a secret way for quick entrance.
The fort was so great that many rulers fought and defeated the emperor Akbar and took over the fort. During these battles many parts of the Agra fort were destroyed so only a few are left for viewers. When the Sur Dynasty took over the fort after defeating Akbar they made renovations inside the fort. Guests get to see this massive Agra Fort on Day – 7 of the Palace on Wheels itinerary. after which they go shopping. Pick up artifacts, mini – Taj Mahal, leather products, jewelery & other souvenirs at the local markets. After a shopping trip guests cap off the last sightseeing day with dinner at a City Hotel.
Reasons to Visit Agra Fort with Palace on Wheels
There are several reasons to visit the Agra fort with Palace on Wheels and some main points are mentioned here. The Palace on Wheels is the pioneer of Indian luxury travel and takes guests in carriages that used by Kings & foreign dignitaries. Guests go on a week long luxury sojourn to top destinations in North Western India. They can see the massive Agra Fort the sister fort – the romantic Taj Mahal on the last day of the tour.
Palace on Wheels Dining Cars & Bar
The trip fare in the refurbished carriages is all – inclusive of daily meals, sightseeing entrance fees (camera fees at some locations is chargeable) and all the luxuries of Kings. This includes eating at the royal dining cars onboard the Palace on Wheels – Maharajah & Maharani restaurants. Guests are served delectable cuisine from Continental, traditional Rajasthani, and North Indian Cuisine here. There is a mini-bar to relax on any international or local liquor (additional charges may apply to some labels).
Palace on Wheels Lounge & Spa
A sitting lounge with comfortable arm chairs to chat with each other or play a board game, read a book or magazine, etc. is available for guests. There are flowers & wall hangings that give an ancient Kingly ambiance & lifestyle. Beverages like tea and snacks are served onboard at evening sometimes. If you would like a quiet relaxation time take a rejuvenating spa onboard with a relaxing ambiance and decor. You may take a health spa or traditional Ayurveda treatment spa onboard.
Palace on Wheels Accommodation
There are various cabins & occupancies available to select from based on your preference – Deluxe Cabins, Suites & Super suite totaling 40 cabins. En-suite washrooms are equipped with shower, optional hot or cold running water, WC, & wash basin. There are soft beds (twin bed/ double bed) & pillows and space underneath the cots to push empty luggages cases. Each cabin of Palace on Wheels is equipped with a writing desk, a stand with draw-box, safe lock, and armoire. Decor is relaxing and there is a window for a panoramic exterior passing view.
The last day of the 8D/ 7N tour helps you to see the Agra Fort after enjoying basic amenities kingly comfort & royal carriages on an organized itinerary. Palace on Wheels is running a special offer on selected departure dates. Do not wait any longer to book your tickets here!