Pros and Cons of a Secured Debt Consolidation Loan
Do you have lots of debt from a bunch of different loan providers? 
If yes, then this is an issue that should be tackled as soon as possible. Many people in such situations look to taking out a larger loan to bring all these multiple debt under one consolidated payment plan.
Who should use Debt Consolidation Loans?
This type of loan is suited for any borrower who currently makes more than one regular monthly repayment. These payments could be for loans, credit cards or overdrafts. Using a consolidation loan, all these various sources of debt are brought together in one payment and a fixed rate of interest.
It is always recommended to not borrow more than you need when taking out such loans, as the aim is to clear all your debts and start with a clean slate. Borrowing more than necessary is risky as you could fall into a worse situations with even more debt that you will struggle to pay back.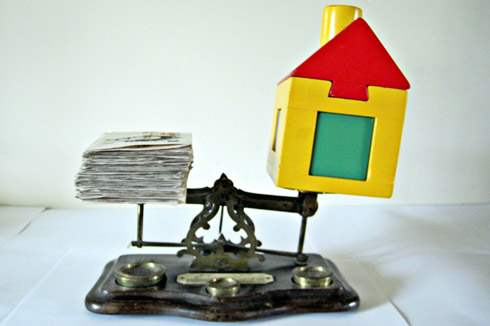 Advantages of Consolidation
If you are drowning in debt, one of the biggest advantages of this method is avoiding the hassle of dealing with many different repayments and separate loan providers. Not to mention reducing all the administration and paperwork that can get you down.
By negotiating a lower rate of borrowing the total amount you have to pay back can be reduced, which saves you a lot of money in the long term.
Having a single clear monthly bill will make it a lot easier to plan your own household budget. Knowing exactly what you can and cannot afford to buy is great, since you don't have to worry about not having enough to pay your various debts.
This method of dealing with your debt will also clearly demonstrate your ability to pay back debts on time. So anyone who has a poor credit history can improve their credit rating by showing they can be trusted by loan providers.
Disadvantages
Taking this route can be a risky move. If you don't plan your strategy carefully, you may just end up in an even worse financial situation. The last thing you want is to be paying more interest and for a longer time than what you owed to begin with.
Seeking advice and increasing your knowledge should be the first thing you do. By making informed decisions you can avoid any mistakes in your attempt to pay off your debts.
Without shopping around, you may end up with interest rates that are higher than the original amount. You need to make sure you know all the numbers involved so you can be sure the agreement you are signing will be a good deal.
Applying for Debt Consolidation
Working with a trusted and highly regarded loan provider will reduce the risks involved. There are many specialised online lenders who can advise and tailor the loan to your specific circumstances. A great site to consult for more information is www.appleloans.co.uk. Learn more about how to deal with debt and easily send off an application for a loan.