Proper Ways To Protect Factory Floors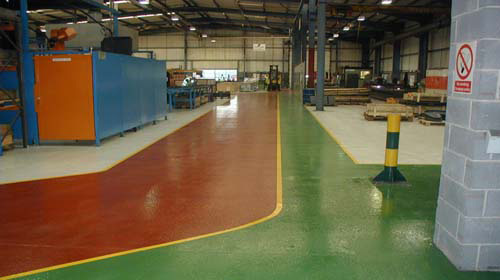 Whether you own or manage a warehouse, garage, factory or workshop, floors are among the first things to get damaged due to spills, foot traffic, heavy object falls and many more. Allowing the floors to get damaged over time and failing to do timely repairs will land you a substantial renovation bill in the future, so it's imperative to know how to properly protect the floors to avoid damage and costly repairs. Here are the best ways to protect your floors.
The floors need to be clearly marked
One of the most effective safety features entails the use of fluorescent markers, marking tape and paint across the facility in order to avoid workplace mishaps and efficiently organize traffic lanes, storage spaces, and general navigation patterns.
Make sure to use specialized paint that not only dries quickly but is also resistant to damage from spills, falls, and scratches, while being bright enough to present a safety warning clearly visible when the workers are in its immediate vicinity.
Apply quality paint
No matter the type of floors you have, you still need to apply quality paint, even on concrete, in order to add a protective layer and ensure its longevity as much as possible. You can use different types of paint depending on your needs, general workflow and volume management.
If your floors are exposed to medium to light traffic on a daily basis, then you could use acrylic floor paint or light industrial paint. However, if the floors need to withstand high volumes of traffic, then you need to protect them with a layer of heavy duty Omepoxy coating or a strong concrete sealer.
Make sure no one slips!
One of the most important safety precautions that can prevent a ton of lawsuits and medical compensations is slip proofing your floors. There are plenty of colours to choose from, so not only can you paint the floors with distinguishable hues for easier navigation but for added protection as well.
Anti-slip paints provide the most effective solution for factories handling large volumes of liquid materials, but also for those looking to introduce the best possible safety measures and working conditions for their employees.
Protect the floors from the elements
Poor floor quality caused by constant exposure to the elements is one of the most hazardous and costly problems you could face. If not coated properly, the floors will develop cracks and the paint will start chipping away, leading to further damage and the onset of serious safety hazards.
Be sure to apply premium concrete coatings to your floors in order to protect them from all natural and artificial elements, and ensure their longevity while providing your entire operation with a productive and safe working environment.
Implement rules and guidelines
Finally, you want to train your employees in proper workplace conduct as well as safety and health precautions that must be followed at all times. If you want the aforementioned solutions to yield the best possible results and ensure a long-term return on investment, you need to implement a strict ruleset for the employees to follow.
Provide crash-training courses for new employees and clearly mark and display the handling and traffic rules across the factory to always remind the staff how to stay safe, but also properly handle and take care of the equipment. When your employees are consciously aware of the rules, they will have an easier and more productive working experience, and also minimize the chances of mishaps and subsequent floor damage.
Floors can easily suffer from significant damage in a productive, fast-paced environment. However, by combining the best floor protection with smart employee management, you can easily ensure a smooth, continuous operating process for years to come.