Polaris UTV Ranger RZR Rear Panel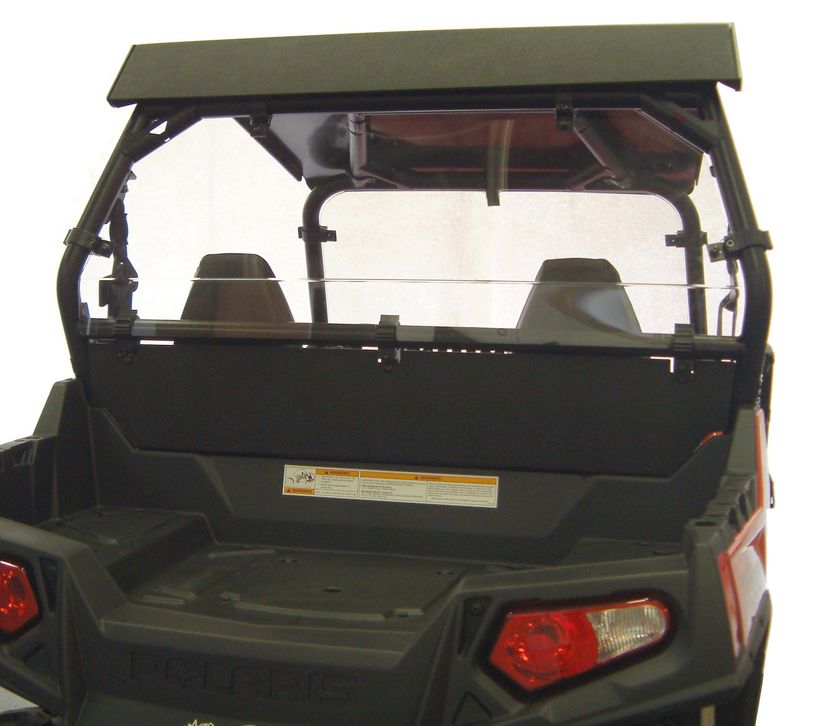 The XP 1000 is the most exciting UTV model to be released in years, and the new 107HP Prostar engine, 14 click adjustable shocks, in-dash GPS and 29 inch tires have all set a new standard for sport models in the UTV world.  One of the first modifications that most RZR owners add to their XP 1000 is a windshield to keep wind and debris out of people's faces.  Unfortunately, the backdraft that a lot of windshields cause pulls a lot of dust into the cabin, covering people and gear with a thick layer of dust.  Fortunately, the easy solution to this problem is the addition of a rear panel windscreen to block the dust out.  There are nearly a dozen such panels on the market, ranging from heavy duty poly windscreens to simple soft plastic windows sown to a canvas border.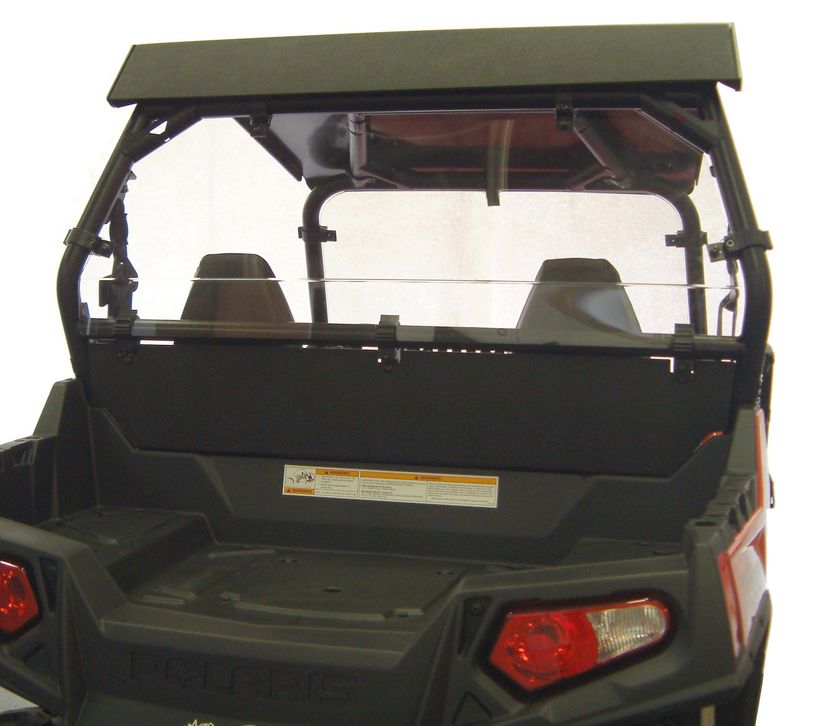 Polaris' own canvas rear panel enhances the comfort, protection and style of your Polaris RZR XP 1000. This panel installs quickly and easily and provides shade at a great value. It features durable, high-quality 23-oz. polyester canvas  that is mold and UV resistant, as well as a clear, crack resistant vinyl rear window for excellent visibility. This rear panel enhances rider protection against rain, sleet, snow and debris. The rear panel can be used with a wide variety of other Polaris RZR accessories, including windshields, roofs, door options, audio systems, and more. The .23-oz. polyester canvas and vinyl window and rear panel installs in minutes with basic hand tools in designated mounting positions on the RZR XP 1000's frame.
Another excellent but very different rear panel option for the  Polaris¨RZR¨ XP 1000 is this Mesh Rear Panel. This panel mounts easily to the RZR¨ frame, and provides shade, and offers protection from weather as well as cargo moving around in the rear cargo box. This is the same rear panel that RZR¨ racers use, adding high-performance style to the XP 1000. When the RZR XP 1000 is equipped with a RZR Half Windshield, this Mesh Rear Panel blocks the dust that typically gathers toward the back of the cab. It can be used with a wide variety of Polaris¨RZR¨ accessories, from windshields to roofs to door options and even audio systems. The rear panel installs in minutes using Velcro fasteners in designated mounting positions on the¨ XP 1000 frame.  The RZR Mesh Rear Panel includes all necessary mounting materials. For these parts and nearly a dozen other rear panels for your RZR XP 1000, visit www.sbsparts.com