Nursing Home Abuse: Know Your Rights to Protect Your Loved One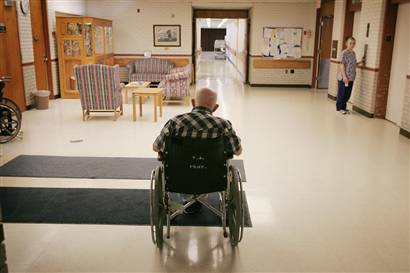 Caring for an elderly parent can be challenging. It can be even more difficult when your parents reside in a nursing home. Many worry about their safety and whether they are actually receiving the proper care and treatment that was promised. Nursing home abuse exists and is all too common these days. Fortunately, you have rights and can prevent abuse with the following tips.

Be Open To Listen
Depending on the condition of the patient, you need to be open and listen to their complaints. Some may be justified, while others can be chalked up to a cranky day.
If they complain about a specific nursing assistant, investigate things further by asking questions. Was this a particular situation or does this continuously happen? Staying abreast of their normal daily activities and staying on top of problems can prevent these issues from turning into abuse.
Visual Observations
You can tell a lot about an individual's care by doing your own observations. Unexplained weight loss, bruising, marks and abrasions can be outward signs of abuse. Other visual signs can include bed sores, nervous ramblings and fear around particular caregivers.
You may also want to pay attention to their cleanliness and hygiene. A properly maintained facility will bathe, clean and make sure your loved ones are receiving the best care. Nobody wants to think about this, but you need to also be aware of sexual abuse. Be on the look out for changes in their behavior and physical signs of trauma.
As expressed by attorney David Perecman,"Nursing homes and elder care facilities are designed to provide safe and secure living environments for those who can no longer live on their own. In some cases, the people taking care of them are more concerned with turning a profit then with the treatment of residents."
Get Involved
An active family member can help review your loved one's progress and the care that they receive. Make sure they're getting their medications on time, eating well and receiving the right amount of personal care by looking over their charts. Ask questions if you don't understand things and communicate your concerns in a positive and respectful manner. If there are issues or areas of concern, follow-up at a later date to make sure the problems were rectified.
Know Your Rights
By law, you can visit the facility whenever your loved one requests to see you. You should also make unannounced visits during the day, evening and on weekends to determine the level of care they are receiving. Make yourself familiar with the staff and be respectful and kind toward them.
You don't want any grievances taken out on your senior because of your own argument. If you find areas of concern, deal with them immediately either in person or through recorded documentation. You can also stay on top of things by becoming involved in the facility and joining the family council. Here, you'll help implement plans for keeping the residents safe, preventing theft and generating activities to promote health and well-being for the residents.
A nursing home facility shouldn't be an unpleasant or feared experience for your senior family member. By taking an interactive approach to their care, keeping the lines of communication open and addressing issues before they become something more serious, you can help prevent nursing home abuse.
Life should be better with the added assistance provided by the nursing home community, and if you encounter problems, you have the right to change things for those you care about.
Helping with the care of her elderly parent gives Nadine Swayne the empathy to forward this information to those faced with the choice of a nursing home for their loved one. Since 1983, attorney David Perecman has aggressively fought for the rights of patients harmed while in the care of an assisted living facility. The lawyers at the Perecman Law firm will pursue fair compensation for patients and accountability of negligent nursing homes.
Photo credit: http://www.flickr.com/photos/xavitalleda/5383583351/