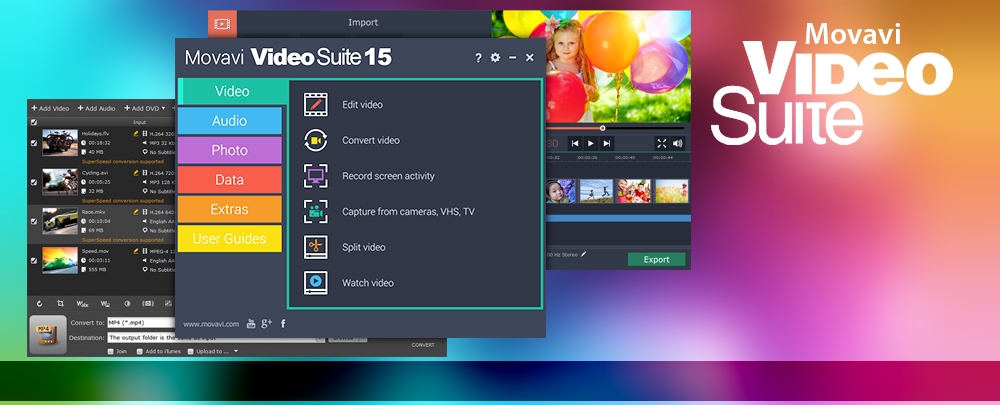 Handling media files has become a daily activity for most people – whether it consists of videos, images or even audio files. In tandem with that, the need to be able to edit, convert, and handle these media files in other ways has also become more and more commonplace.
Regardless of whether you're looking to convert media files from one format to another, optimize them for particular devices or platforms, or even create professional-looking videos and images – the Movavi library of software will provide you with ample solutions. It includes options for file conversion as well as both photo and video software – so you should definitely be able to find what you need.
User-Friendly Solutions
Unlike any other media software you've attempted to use in the past, the selection that is made available by Movavi is unique in terms of how user-friendly and intuitive it is. Each and every software that bears its name has the same straightforward approach and is designed so that even beginners can start to use it right off the bat.
By providing an accessible user interface coupled with easy controls, it should take you only a few minutes to familiarize yourself with any of the software. For the most part the Movavi software relies in simple yet familiar actions such as dragging and dropping things into place, resizing windows, or even adjusting sliders to work its features.
In some cases there are even automated options available that will allow you to get things done with just a single click.
Extensive Features
One thing you'll find when you're using any of the Movavi software is that the features they bring to the table tend to be extensive – and powerful to boot. Rather than offering simple the 'basics', these software go out of their way to provide users with everything that would be required.
Essentially the software tend to act as a 'one stop' solution that will hand users all the tools they need to get the job done – whether it is converting and optimizing media files, improving and enhancing photos, or even production high quality and professional-looking videos.
With so many different options available, the only real decision that you'll need to make is which one suits your needs best. Even that shouldn't be too hard as each software is specialized for a specific purpose – so all you really have to do is select the one that fits.
If nothing else, it makes sense to give the Movavi software a try firsthand to see for yourself how easy it is to use. That should be evident as soon as you launch it and start to use it for the first time, and before you know it you'll be well on your way to accomplishing your goals.