Motorcycle Graphics – Give Your Bike A New Refreshing Look
Are you into bikes? Only a bike lover can understand the feeling of owning a customized bike that no other person in the town owns. Customized bikes have been an obsession for many daring, fun loving young guys and even men in their middle age. There is no better feeling than customizing one's bike according to his own ideas and thoughts. So here is how you start. Just imagine how you want your bike to look, use a Motorcycle Graphics Kit to design the graphics. These kits are used to create the most creative designs for customized choppers. They add a professional touch to your dream vehicle and can make it look really different, one designed especially for you.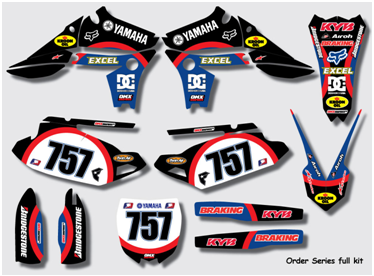 Motorcycle graphic kits are just perfect for customization of choppers and motorcycles. In general, you can say it is an equipment to make different designs on your chopper. It has stencils that can be used to make patterns, a squeegee to spread paints/colors equally, a comprehensive instruction manual to help you understand how you can make new designs. The package also includes a stencil or decals for practice. There are limitless designs available in these graphic kits, based on your choice you can choose anything from star, lightening, flames, snakes, to tribal tattoo designs. These designs come in a wide range of colors and based on the color of your vehicle, you have the choice of selecting a perfect design and color combination for your bike.
Use of motorcycle graphic kits has increased tremendously and this increase in popularity has definitely resulted in a wide range of variety in terms on decal, purchase option, etc. Now, you can plan your entire bike look over the internet even before making an actual purchase. Just plan the way you want your chopper to look and then purchase graphic and decals accordingly. These decals are available in various sizes to fit any place on your bike. Even your model bikes on the shelf will have some designs on them now.
Like another product in the market, these motorcycle graphic kits too have different qualities. They have different features and a single graphic kit may not fit all requirements in terms of colors, decal, graphics, etc. so before ordering one make sure the selected kit will meet all your graphic requirements. The companies also offer few free customized graphics along with the kits. Just explain to them the kind of designs you are looking for and get your customized designs along with the kit.
You also have the liberty to choose and order a color of your choice. The companies also blend in customized colors to give a perfect and unique look to your bike.
Remember, customized bikes are not just about technical and machinery customization, their look, their designs and patterns on them also play a vital role. Compromise on graphics can ruin your entire customization efforts. Just get a good suitable graphic kit and make designs of your choice. Select colors that flawlessly blend in with the entire design and enjoy your very own bike.
Author Bio 
Johnny is a fanatic biker who doesnt miss a chance to ride his mountain bike on weekends. He is crazy about Bike Graphics. He just bought Cool Graphics from OMX Graphics for his bike.