Latest Photography Gadgets For The Average Consumer
Ever since digital photography took the world by storm and revolutionized the way people take and print photos, more people have become interested in the art of photography. With digital media, people have the ability to shoot photos the way they want to, thanks to vivid screens that display photos as they are taken, allowing individuals to delete, reshoot, and edit photos as they go.
Digital cameras are always being upgraded, which means there are always new models out on the market, bringing the price of cameras down as more competition hits the market. From cameras that are easy to carry around with you everywhere, thanks to their small size, to those that have interchangeable lenses to provide you with the ability to zoom into long-distance scenes, there is something out there for everyone.
Here are some of the most innovative photography gadgets available to the average consumer, who can purchase these and become even better at the hobby of photography.
Gorillapod
You have most likely heard of a tripod, which is a device onto which you mount your camera to take perfectly steady shots, to take photos that require long exposures, or to take group portraits by remote, but you probably have never heard of the very innovative Gorillapod. This device acts like a tripod, but the great thing about it is that you can mount it anywhere, including unstable surfaces. You can even wrap it around a pole or tree and it will hang on tight, with your camera attached, thanks to its series of ball-and-socket joints that give the legs of this tripod ultimate flexibility and strength. The price depends upon what type of camera you have, from a DSLR to a pocket camera.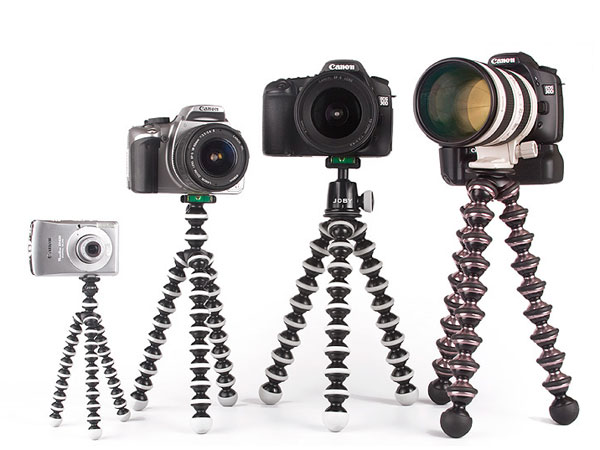 Underwater Digital Camera Mask
Manufactured by Liquid Image, the Underwater Digital Camera Mask allows you to dive, snorkel, and swim in tropical waters and take photos with the mask instead of having to take an underwater camera with you. In this way, you reduce the risk of losing your camera, and you have two products in one: a snorkel/dive mask and a camera. This gadget even takes underwater videos. The camera lens sits above your eyes, and an easy-to-access button on the top of the mask allows you take photos instantly. The price of this product is dependent upon what model you purchase.
Pet's Eye View
If you love your dog or cat and want to know what the world looks like through his eyes, then the Pet's Eye View is the perfect gadget that is fun and entertaining. The small circular camera attaches to your pet's collar, just like his name tag, and it is water-resistant. It has built-in internal memory and it can be programmed to take photos every 1, 5, or 15 minutes. Whether you use this camera to see how your home or the outside world appears to your beloved pet, or you use it to keep an eye on his behaviour while you are not around, the photos it takes are sure to give you a good laugh.
Are you looking for more information on all things gadgets? Visit Tech Solvers now, the leading IT support company in London.