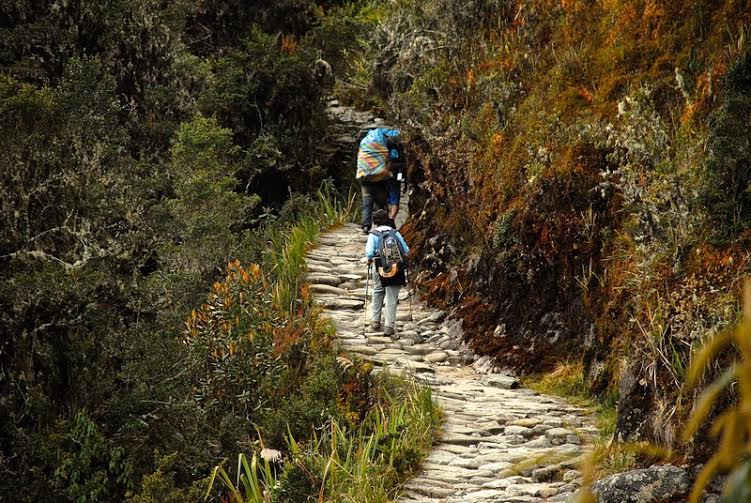 There are several different ways to reach this unique place Machu Picchu. One of the most famous and by far the most varied (because of the combination of different activities) is the Inca Jungle Tour. This trail is not just a tour, it´s an amazing and unforgettable adventure during which you will experience a variety of activities on a completely new level. From descending over 3400 m.a.s.l. by mountain bikes, to staying with a local family in the jungle below 1500 m.a.s.l.; from zip lining to hiking through the Inca pathways. Finally ending in the unique Inca city, situated on the top of a hill, surrounded by the mountains and jungle.
We are constantly striving to give our customers the best possible experience and so there are several unique aspects that make our Inka Jungle tour different from any other tour offered. The first is the bus that takes you from Huamanmarca to Santa Maria. Most companies have you walk this, but it is a tedious 3 hour hike along a motorway without much to see. We know your time is valuable so we take a bus and skip ahead so that you are able to actually experience the jungle on the first day. Another difference is the first day lodging, instead of a hostel in the unremarkable town of Santa Maria, we have a private lodge in the jungle run by a local family. Here you have a truly unique experience of the Andean jungle.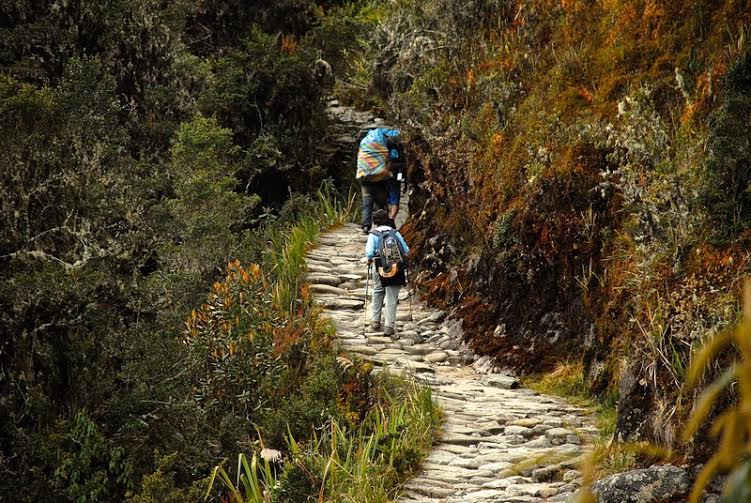 Day 1: Cusco – Huamanmarca – Pispitayoc (biking, rafting, treking)
The Inca Jungle tour starts very early, between 5:30 – 6:30 am with the gathering of participants from various hotels/hostels or central pickup location. After pickup we will go by private bus to Ollantaytambo (arrival around 8:30 am). Here we will stop for approximately 30 minutes. You will have the opportunity to have breakfast here as well as a chance to buy anything you might have forgotten to get earlier, like ponchos, snacks, repellents, etc. Then we will continue the trip by bus for the next hour and a half to the highest point of the journey – the mountain pass Abra Malaga to (4,330 m.a.s.l.). Along the way you will get to see picturesque villages and the beautiful landscapes of the sacred valley of the Incas. Throughout the journey you can enjoy the breathtaking Andean landscape. In Abra Malaga we will start the first part of the adventure – the biking tour. Here you will get all necessary equipment, like helmets, vests, bikes and after a while we will descend with bicycles approximately 3 hours towards the lower jungle to the town Huamanmarca (1250 m.a.s.l.). You will be accompanied by private transport in case of emergency. On the way we will pass through small villages, orchards, rivers and streams. You will be able to feel the climate change from high mountains, with snowy peaks, which you will see at the beginning in Abra Malaga, to the jungle full off fruit trees, varied fauna and flora, with a warm and humid climate. You will also probably feel the difference in the altitude (the difference will be more than 2000 m.a.s.l.).
In the village of Huamanmarca we will have a break for lunch (buffet) in the restaurant. Here you will taste typical local dishes. After a short break we will go by bus to the town of Santa Maria, where all participants will be divided into 2 groups: the ones who booked the rafting and the ones who didn't.
The group who booked the rafting will be picked up and brought to the rafting camp, where they will receive instructions. The service includes equipment like helmets and life jackets. Depending on the season the river will have class III and III+ (medium risk) with exciting speed and some turbulence but all controlled and supervised by experienced guides (certified in extreme sports), who also have excellent knowledge of the geography, climate and local environment. We will be accompanied by a fleet of rafts and a professional kayak rescue raft. The rafting adventure will take approximately 2-2,5 hours. If the river has class IV or higher for security reasons we will cancel the rafting and refund your payment. Travelers who have not previously booked the rafting can buy this activity after arriving to Santa Maria, if it is available (sometimes it can be impossible, especially in high season, when a lot of tourists buy this activity). The travelers who didn't book the rafting tour will go by private bus with a guide to the village of Santa Rosa (around 20 minutes), where they will start a hike for approximately 45 minutes until reaching eco lodge called "La Choza". Here they will have a chance to gain some extra knowledge about coca leaves, coffee beans and other fruits or vegetables available depending on the season.
After the rafting adventure these participants will go by private bus to the village of Santa Rosa. From this point they will start the hike towards our jungle lodge "La Choza". Here you will spend the first night of Inca Jungle Tour, accompanied by an orchestra of jungle sounds. Staying in "La Choza", which is run by the local family, will be a unique chance to enjoy the pure jungle in its best way.
Meals: Lunch, Dinner
Accommodation: Local Hosting
Maximum altitude: 4,316 m.a.s.l.
Minimum altitude: 1,200 m.a.s.l.
Distance: approx 221 km
Optional: Rafting
Day 2: Pispitayoc – Cocalmayo – Santa Teresa (trekking)
The second day of the Inca Jungle Tour will start around 7:00 am. After a delicious local breakfast with a nice cup of homegrown and homemade coffee – all of that in the middle of the jungle – we will start trekking around 8:00 am. After approximately 30-40 minutes you will continue the walk through the original Inca Trail. This section is a must. Along the way you will witness the diverse flora and fauna, of many fruit trees, like pineapple, papaya, banana and different species of birds fluttering around. This ecosystem belongs to the high forest and it is one of the richest biodiversity in the world.
After around 2,5 hours of walking we will arrive in the small village of Quellomayo, where we will have lunch and take a rest in hammocks. This will give you extra energy for the next part of the trip. After this break we will continue trekking around 3 hours more crossing farms, waterfalls and rivers (one river you will get to cross with a cable car). At around 4 pm we will arrive to Cocalmayo – better known as the hot springs of Santa Teresa, where you will have the opportunity to take a relaxing, warm bath. Cocalmayo offers several relaxing hot springs, each with its own temperature. The sound of the river and the stars in the evening give for this place a unique atmosphere. You will have enough free time to relax and enjoy this incredible scenery and "charge the batteries" for the next day of your adventure.
After the break in the hot springs we will walk about 40 minutes more until reaching the town of Santa Teresa (you can also take a taxi, but this option is not included in the tour), where we will stay for a night. After the dinner you will have free time to explore the town, or just relax and take a nap. Santa Teresa also offers some local pubs, discotheques where you can taste typical Peruvian beverages and meet with the locals.
Meals: Breakfast, Lunch, Dinner
Accommodation: Local Hostel
Maximum altitude: 1,700 m.s.n.m.
Minimum altitude: 1,280 m.s.n.m.
Distance: approx. 12 km
Optional: hot springs in Cocalmayo
Day 3: Santa Teresa – Hidro Electrica – Aguas Calientes (zip line, trekking)
This day we will also start at around 7 am. After a breakfast we will get ready to continue exploring the roads that were followed by the first expeditionaries who discovered Machu Picchu and other important archaeological complexes.
In Santa Teresa there is a zip line and all participants will be divided into 2 groups – one who booked zip line and the other who did not. Those of you who reserved the zip line will be transported to the place where this activity is organized. This part will take around 2 hours. After the zip line this group will be taken by bus to the area known as the hydroelectric. The rest of the group will continue the trek for approx. 3 hours more through the valley until reaching the hydroelectric, where the entire group will come together again. Here we will all have lunch. After a break we will continue walking along the railway enjoying among other things the beautiful waterfalls, coca and coffee farms. This part will take approx. 3 hours. We will arrive in the town of Aguas Calientes, also called Machu Picchu Pueblo, around 4 pm. Here, in the hostel with hot water and wi-fi, you will spend the third and last night. In the evening we will meet together in the restaurant, where a delicious dinner will be waiting for you. Here the guide will give you a briefing about the fourth day and Machu Picchu. You will also have time to explore the town on your own. In Aguas Calientes there are hot springs, so if you would like to rest in the warm water, you will have opportunity to visit them (the entrance ticket is not included in the tour).
Meals: Breakfast, Lunch, Dinner
Accommodation: Local Hostel in Aguas Calientes
Maximum altitude: 2,040 m.a.s.l.
Minimum altitude: 1,600 m.a.s.l.
Distance: approx. 16 km
Optional: zip line
Optional: hot springs in Aguas Calientes
Day 4: Aguas Calientes – Machu Picchu – Cusco (exploration of Machu Picchu and return)
The last day of the Inca Jungle tour will start around 4:00 am. Thanks to this early start we will arrive to Machu Picchu, our final destination, very early, and have more time for exploration. First, we will walk through the high forest, climbing around 1500 stairs, till the control entrance, where we will arrive around 6:00 am. After crossing the gate our tour guide will lead you, for about 1,5 hours, through the spectacular ruins of Inca city. You will also have a lot of time to explore Machu Picchu on your own. After visiting Machu Picchu you will go by train from Aguas Calientes to Ollantaytambo where you will be picked up and transferred to Cusco city by bus. The journey ends in the Plaza de Armas in Cusco. Note that from Machu Picchu ruins to the train station in Aguas Calientes you will descend on your own, because some of you will want to stay longer in the ruins, some shorter, and some will climb additional mountains, so some will book the train back at a different hour.
Important!!! Remember that you have to be at the train station in Aguas Calientes at least 30 minutes before departure of your train. Your departure train from Aguas Calientes to Ollantaytambo is at 9:50 pm, unless you booked other option. Remember to leave Machu Picchu with enough time to be at your train 30 minutes before departure. Usually it takes around 2 hours to come back on foot from Machu Picchu ruin to Aguas Calientes, but of course it depends on the person and their physical condition and may take longer.
The travelers that booked hiking up Huayna Picchu or Alternative Mountain (Montana Vieja) will be able to start trekking after the guided tour of Machu Picchu. Note that it will take around 45 minutes to reach the top. The way to the top is very steep and narrow, but it is worth the extra effort, the view from the top is absolutely breathtaking. Climbing Alternative Mountain (Montana Vieja) will take about 2 hours, but the route is not as steep as Huayna Picchu, although this mountain is higher. Remember that entrance tickets to Huayna Picchu and Alternative Mountain (Montana Vieja) are for a specific time, so be in front of the entrance gate on time, otherwise you will lose the opportunity to explore these additional mountains.
Meals: Breakfast
Maximum altitude: 2,490 m.s.n.m.
Minimum altitude: 2,040 m.s.n.m.
Distance: approx. 1,5 km.