How To Lose Weight While Travelling?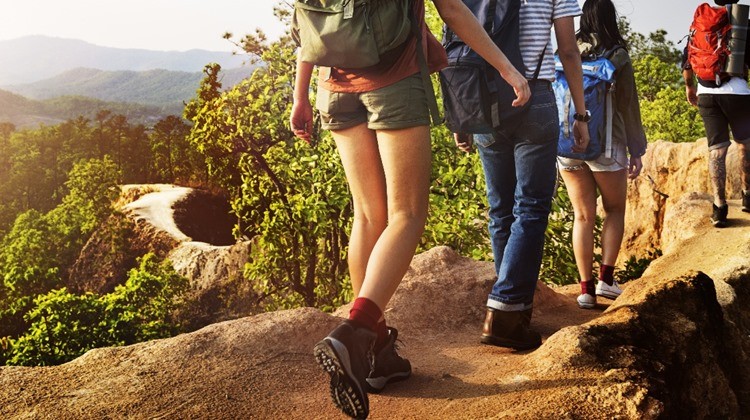 Many travellers want to stick their healthy diet during the trip and this can be quite challenging for them. When we are in a distant country and offered with various tasty local meals, maintaining proper intake of food can be quite difficult to accomplish. In reality, travelling can be seen as an opportunity for you to lose weight and become physically active while having fun. Climbing an ancient ruin with hundreds of steps can become a great experience for body and mind. It's often about making smart choices. You need to choose the right foods and proper tourist destination, which allow you to maintain decent intake and visit the right places. If you eat too much, your body will start to store fat reserves. Also, it is not really a good idea spending your hard-earned money on something that will end up making you fat.
Many local foods can be high in fat, although they are made from fresh ingredients and cooked in traditional ways. One good way to combat hunger is by making sure that something passes through your throat regularly. It doesn't have to be something that contains a lot of calories. Bottled water should be relatively affordable in many travel destination areas and you need to drink regularly. You should also purchase sugar-free gum and roasted (non-fried) nuts. By being properly hydrated and chewing something, you will be able to resist temptation to eat something. If the trip is particularly long, you may need to ask the travel agent about healthy food options. If you want to be safe, it is a good idea to choose various vegetarian dishes, which are often highly nutritious and low with animal fat.
You should also be aware that much of your trip can be spent in airplane, bus, train and other transportation means. In this situation, your caloric burn will be quite low. You need to use common sense and not too eat too much. You should pass on the alcohol and you may bring organic dried fruits with no sugar added, as snack. It's easy to drink alcohol during a trip, but it is something that you need avoid, when you are trying to lose fat. Whatever you do, you should avoid any temptation to stop at fast food restaurants. McDonald's and KFC can be found in many countries, so you need to avoid them at all cost. Eating fast food for an entire day may play havoc with your overall metabolism. In some cases, fast food restaurant is the only option available.
If this is your situation, you should check for the healthiest menu available, such as chicken salad, simple fish burger or vegetarian pizza. Lean sliced turkey, sugar free drinks (with no artificial sweeteners), low-fat cheese and yellow mustards are also things that you can find in many fast food restaurants. You need to make various smart choices to achieve your muscle growth and fat loss goals. You shouldn't hesitate to ask for low-carb dishes, whenever they are available.