How To Deal With Someone Diagnosed With Cancer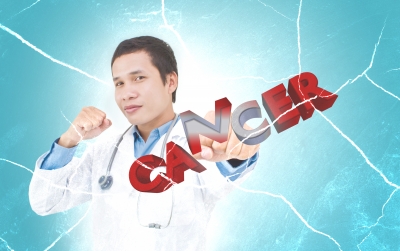 Being diagnosed with cancer can be a shattering experience for many. Since not everyone can be the Walter White of Breaking Bad, cancer patients need a lot of support and care. Depending on individuals, every patient will require different levels of support. However, all of them have one thing in common; they are depressed, anxious and worried about the outcome. It is therefore imperative that cancer patients receive help and love from others as it is vital to their fighting willpower.
To console someone when they are diagnosed with cancer is one tough situation. You know you cannot empathize with them and sharing their pain and fear is incredibly hard. But there are many other ways using which you can offer support, care and love to those fighting the disease. Read on to learn more about it.
Image courtesy of hyena reality / FreeDigitalPhotos.net
Offer Help
Before anything else get in touch with the patient's family and offer your help in any way possible. Inquire about their problems, how their lifestyle is being affected and what role you can play in pacifying their situation. Remember not to take action on your own as it only creates awkward situations. Families sometimes end up with dinners from many people or offers of conveyance from different sources. It doesn't hurt to ask and this way you will also be able to help where they need you most or where you are most relevant.
If the family that you are trying to help is facing financial problems, you shouldn't just start with giving money. It is important that you are polite and gently offer them any monetary help that they require. Remember that they need help not pity and respecting their dignity is important.
Don't Force Emotions
Cancer patients go through torrent of emotions and need their time and space.  Don't try aggressively to make them happy or not let them cry. Cancer patients will experience varying emotions and it is part of their treatment to express their emotions freely. They are already frustrated and feel trapped so when you force them to alter their emotions, it makes matters worse. No one wants to be sick and no one can remain happy all the time. Therefore it is important that you let them express themselves freely without any kind of force or dictation.
Listening to their Problems
According to experts many patients that have successfully beaten cancer happen to be those who had someone to talk to. Many hospitals now have psychologists and train their nurses to talk to cancer patients. If you want to help them, spend some time everyday with your friend or loved one who is suffering from cancer. Listen to their apprehensions, their reactions to chemo and other issues that they are dealing with. Don't let them discuss depressing topics on length and ensure that they are happy most of the time. Whatever you do don't ask too many questions as they don't like to be interrogated.  To prepare yourself to help your friends it is a good idea that you start reading literature and watch informative videos on dealing with cancer patients. Talk to them about their chances of beating the cancer and offer as much motivation as you can offer. Remember that it is important not to delve on topics of death, mortality and other pertinent issues should you make them more depressed than they already are.
Treat them Normally
Often when you go to meet someone who is seriously ill, you wear a look of concern, empathy and sorrow. Whatever you do, don't do this with a cancer patient. The reason is simple; they need motivation and strength, not your sympathy. They are fully aware of their situation and don't need to be reminded about it again. Therefore be normal and be yourself with them. Talk casually as if they are perfectly fine. This is a positive reinforcement technique that helps the patients realize that they can beat cancer. Some patients forget they even have it and start mingling with you. Play board games and share jokes to ensure that they are happy around you.
Cancer is a treatable disease that can be beaten easily. So it is important that you must be supportive and helpful to the patient and their family. Offer help but don't force yourself. If you think you can't do anything for the patient, don't get discouraged and just talk and interact with them as this too can do wonders.
Kevin Smith Jones is a blogger who loves to write about medicine. He is completing his medical degree from the University of Kansas and has written about different topics relating to Phen-d, health, general hygiene and cancer. He talks about how you can deal with someone who has cancer in this article.