How Is Artificial Grass Safer and More Convenient Than Natural Grass for Pet Owners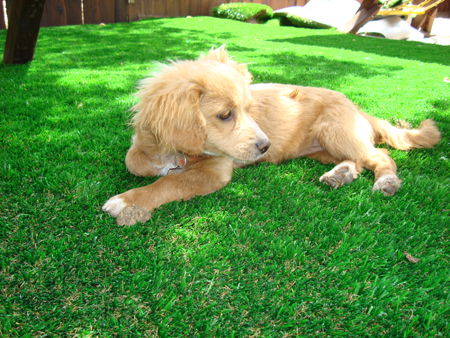 Artificial or synthetic grass is a low and easy maintenance alternative to natural grass. It is the perfect option for all those busy professionals who like a lush green outdoor, but do not have the time to put in the amount of effort that it requires. Keeping your lawn looking green and well-kept at all times requires a lot of effort. Besides watering it regularly, you will also need to use fertilizer, de-weed and mow it regularly.
The task becomes even more difficult if you have a dog at home. Dogs love to play outdoors and will dig, rub themselves, chew grass, urinate and even poop in your well-kept lawn. This will leave ungainly spots that will give an uneven look to your lawn.
Another problem is the mud treks that they will leave in their walk on the floor and carpets after their play time in the grass. All this leaves the homeowners feeling frustrated, as they have to spend a lot of time and money in maintaining the look of their lawn and home.
Synthetic Turf – The Best Solution: Synthetic turf or artificial grass is definitely a better alternative to natural grass for all the pet owners. Unlike the earlier versions of artificial grass that really did not look like grass but rather like a green carpet, the synthetic grass of today has a complete look and feel of natural grass.
There are many advantages of artificial grass for pet owners. These are:
The strands of the grass are made up of polypropylene and polyethylene. These are completely non-toxic. So even if your dogs ingest some of the grass there are no adverse effects on their health.
This turf is very easy to clean up. You can just scoop up the poop after your dog and then hose down that area.
The turf is stain proof. So even the acidic nature of your dog's urine will not be able to leave any stains on the grass. This will help maintain the even look and color throughout the lawn.
As there is no mud in this type of grass so even after your dogs have had their play time in the lawn they will not bring back muddy pug marks into the house. So your floor and carpet are saved and will save a lot of your cleaning up time.
It also eliminates the time and effort required in watering and fertilizing the lawn. You can thus save water as well.
They are also smell proof so the lawn will not smell like your dog all the time.
Unlike natural grass that is frequented by dogs, the artificial grass will not get infested by ticks and fleas. So your dog is much safe playing on this grass.
You can also save a lot of time and effort that you would otherwise spend in mowing.
How Safe Is Artificial Grass For Your Pet?
Unlike the earlier versions of artificial grass that showed traces of lead that is very harmful for your family and pets, the artificial turf manufactured these days are completely free of lead.
In addition to that unlike natural grass that needs the use of chemicals and fertilizers for its upkeep, there is no such requirement in artificial grass. So if your dog likes to chew grass then this grass is safer than the natural grass. Make sure that you buy artificial grass for pets from reputed companies, in order to make sure that harmful chemicals are not used in their manufacturing.
The advantages of this pet friendly version of grass are many. So get your synthetic turf today and your lawn will be the envy of all your neighbors.