Hints On Organising A Truly Impressive Corporate Event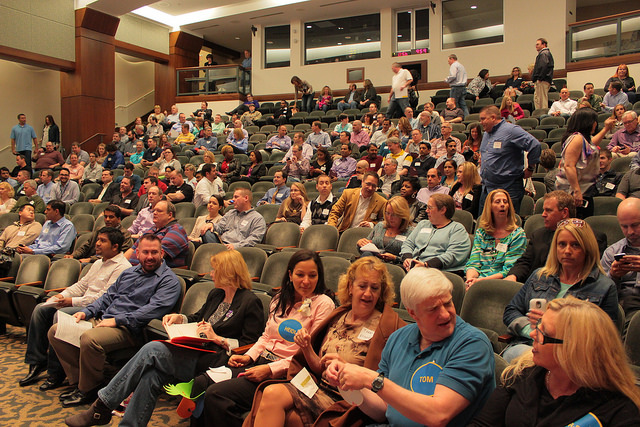 If you've been put in charge of organising a corporate event and you want all the guests to be impressed for days and weeks after it, you need a lot of time to prepare everything and take into account even the slightest detail.
Unfortunately, financial and time-related constraints often make this task extremely stressful. Still, smart choices, good prioritising and knowing what to focus on can help you pull off an event that will exceed the expectations of your client or your boss. Let's look into some matters you most definitely have to consider during the process.
Before the Event
The most important thing is to actually make sure the content is relevant, interesting and enjoyable. Additional funds at your disposal can help you create a spectacle and there is nothing wrong with that. Still, if what is actually happening at the event is enticing, your guests will be impressed.
That leads us to point number two: you need to know your guests, i.e. your audience, and carefully combine their interests with the goals of your client or company. If the guests don't get any "added value" in terms of knowledge, contacts or any other aspect, they are likely to be disappointed. Therefore, focus on your guests and their interests, rather than on self-promotion.
Next, you need to allow some time for informal chatting and mingling. This will help the atmosphere get more relaxed and it is also sometimes the main reason some people attend events like yours. If you want them satisfied, you need to give them what they expect.
Another point worth mentioning are invitations. Experience has shown that people prefer personalised ones. Also, make sure the registration forms are short and user-friendly. You need to collect just the most important information, such as names and companies, which you can use for name tags.
One of the crucial points that can contribute to the overall success of the event is your selection of the venue. Again, you need to bear your guests in mind, as well as the goals of the event. Luckily, today you can choose from a wide range of places available for rent. Whether you opt for a boat ride or an elegant Georgian manor Oatlands House depends on your budget, the image of your client or company and what kind of emotion you're trying to awaken among the guests.
During the Event
This is the time when your preparation and attention to details should pay off. Understandably, you need to be alert and react to possible unexpected issues. What you can do during the event depends on the event itself. For example, if you have speakers giving presentations, you'd want to collect all presentations before the event and have them all on one laptop, which would help the program run smoothly and seamlessly.
As always, having a backup option can prove to be priceless. Have a backup computer with all presentations ready, just in case. You can also prepare signs which you'll use to inform the speakers about the amount time they have to finish. That will help you stick to the time-table, which is a characteristic of a responsible and professional host.
Of course, you'll need to allow time for follow-up questions. Since many are reluctant to participate in Q&A sessions, you might prepare a question or two and ask someone you know well to break the ice. However, you mustn't allow it to take up too much time.
Finally, you should make your brand noticeable throughout the event, regardless of whether you have a dozen or a hundred people in attendance. Depending on your budget, the company's name and logo can be present on a range of items. One of the popular items at corporate events is a lanyard, since it is practical and appears in the event photos. That establishes a connection between the brand and the event for a longer period.
After the Event
Good manners are vital. A personalised "thank you" e-mail to both the speakers and the audience is a must. You can also include event photos, presentation or other important messages. Also, try to get some feedback from the guests and use one of many online tools for that. Finally, plan a follow-up event or campaign, based on the feedback you receive, but try to get some well-deserved rest first.