Enjoy A Great Holiday And Affordable Dental Care In Thailand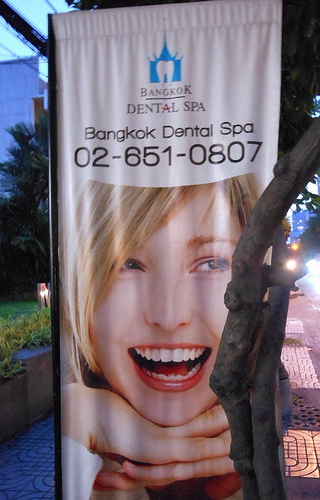 Dental problems are not easy to ignore. Because the world sees it when you smile, a less than perfect smile will most likely make you quite self-conscious. On the other end of the spectrum is toothache, which can also not simply be wished away. A visit to Thailand however can put your dental woes behind you without hurting your pocket. Considering the numerous success stories of initially skeptical visitors from the west turned converts, there are good reasons why Thailand is fondly known as the land of a thousand smiles.


Thailand is one of the world's most popular medical and dental tourism destinations. In recent years, the numbers of medical tourists to the country have been on a steady rise. It is estimated that between 2002 and 2011, the numbers shot up to 1.6 million visitors, up from only 600,000.
Can dentists in Bangkok be trusted?
The Medical Tourism Corporation in Thailand attributes the growth of medical tourism to the low cost of medical and dental services on offer in the country. The corporation however adds that low cost does not mean the quality of the services is cheap. On the contrary, the quality of dental services is world class, offered in modern, excellent facilities. The medical corporation also says that Thailand is able to offer services that are cheaper than in the west mainly because of Thailand's relatively low cost of living. You can therefore trust dentists in Bangkok to provide you with some of the best dental services.
Services
Whatever dental work you need, dentists in Bangkok can handle it. The range of services available is diverse, including restorative and cosmetic dentistry. Although dental implants are the most popular with visitors, other services such as root canals, teeth whitening, dental veneers and crowns are also available. Therefore, if you have missing teeth, misaligned or stained teeth, you can have your smile restored in Bangkok.
For the thousands of patients in search of dental implants in Thailand, dentists use products from the most reputable manufactures with types of implants including single tooth implants, immediate implants with porcelain crown on the implant, All-on-4 and Zygoma implants.
Single tooth implants replace missing or injured teeth with up to a 100 percent success rate. Immediate implants are a quick solution to missing teeth and can be fixed within as short as 15 minutes and a crown placed a day or two later. The All-on-4 implants are mostly used on patients who need to replace their dentures with fixed teeth without bone grafting.
What are the benefits?
High quality dental services in a comfortable environment are the single most cited reason why foreigners choose to travel to Bangkok for dental services. Even after factoring expenses such as air travel, accommodation and other expenses, most patients report spending less than they would spend on dental work alone in their countries. Compared to the prices in developed countries, dental services in Thailand can be cheaper by up to half or more.
Dental clinics in Bangkok serve a varied clientele, from locals, foreign expats and diplomats as well as medial tourists. To ensure high standards of services, Thai authorities require all of these clinics to comply with the regulations before they are certified and licensed to provide dental services.
Most of these clinics are run by professional staff with high level of customer service. With Bangkok dentists, there are no long waiting queues and you can see the dentist as soon as you need to. In addition, the dentists are bilingual and speak English. The dentists also receive their training from learning institutions using a training curriculum like that offered in developed countries. Many dentists in Bangkok are trained and certified in the US or UK.
Apart from the qualified staff, dental clinics in Bangkok are equipped with some of the most state-of-art facilities including modern diagnostic equipment and facilities like theatres and treatment planning rooms and dental laboratories. The hygiene standards are also high, with the facilities designed to help the patients to have a pleasant experience whenever they visit.
Many clinics in Bangkok will also help you to arrange your trip before your leave your country. The clinic staff provides patients with an estimate prior to their travel and some also advise patients on the best accommodation.
Other value added services may include having a driver pick you up from the airport, drive you to your hotel, pick you up for your appointments and drive you back to your hotel. Some will take you on a tour of Bangkok on the last day of your visit.
Featured images:
 

License: Creative Commons

 

image source
John Chen is a travel writer currently located in Bangkok, Thailand.