Drape Yourself In Designer Sarees!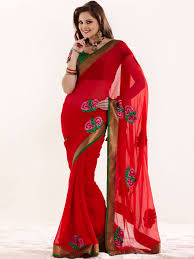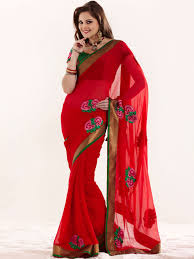 Saree is one such attire that can make any women look elegant and feminine irrespective of what age and size you are. Saree is an indispensable part of the Indian clothing since olden times. This attire has evolved with time in many different styles but has never gone out of fashion. Sarees blend with any occasion be it a cocktail party or a big fat Indian wedding or just a formal wear to office. You are sure to find one for your occasion. Earlier Kanjeevaram sarees or sarees woven out of silk were considered to be rich and classy. But these days, with the advent of designer sarees, new fabrics are being used with contemporary designs and prints.
Saree is a fabric that is usually 4 meters to 9 meters in length. It is worn with a petticoat below the waist and a blouse above the waist. Then the saree is draped over the body. Saree is worn in almost every region of India with its signature style. In the northern part of India, the pallus are worn in the front. In Calcutta, every Bengali woman owns a white saree with a red border. This in one way represents the Bengali culture. In Maharastra, sarees are worn in the Lavani style without a petticoat. These sarees are usually 9 yards sarees. There are 80 different styles in which a saree could be draped.
Earlier sarees were only a part of Indian attire but now they have been introduced in United States of America, France, Canada, Pakistan, Singapore, Malaysia and Sri Lanka. Saree come in different ranges, cotton sarees can be bought for as low as 10$ and designer sarees could vary anything from 500$ to 2000$ or much more. There are different varieties such as plain sarees, printed, embroidered, beaded, stonework, etc. The fabrics also vary such as silk, georgettes, chiffon, crape, cotton, jute, etc.
Indian sarees were earlier worn only by the Bollywood celebrities only. But now quite a few Hollywood celebrities are also seen adorned in a saree in various award functions. There are few factors which have made designer sarees so popular in India and also in Western countries.
Variety: Designers saree are constantly experimented with. Sometimes it is the colours, sometimes the fabrics and sometimes the designs. Indian designers are constantly striving hard to reinvent the designer sarees. They even think of ways to drape the saree and also change the lengths.
Bold Colours and Styles:
Saree come in many colours and prints and styles. Saree designers like Sabyasachi and Label24 are adding new and exceptional concepts to saree.
Fusion: In order to attract the overseas customers, designers are now blending the traditional saree with contemporary designs.
Saree gives every bride a meaningful wedding experience. The saree chosen by the bride has a great impact on the wedding. Designer saree are custom made for the brides and are done with a lot of precision and effort in order to create a masterpiece. Hindu weddings are a pompous affair and there are number of ceremony held before and after the wedding, namely haldi, mehendi, engagement and the marriage. For all these occasions, the bride gets designer sarees custom made. These days every occasion is given a theme or a colour and the sarees are designed keeping this theme or colour in mind. On few occasions only specific colours are preferred such as yellow for haldi, green for mehendi and red or white for marriage.
Thus, designer sarees are not simple worn for fun. Every Indian sari especially the bridal sarees depict with the traditions, culture, religion and beliefs. And the designers keep in mind these factors whenever they design a saree.
Ramesh shetty is the owner of an online shopping website for traditional and designers sarees. His clientele includes Indian and overseas customers.