Different Types Of Beautiful Rakhis For Your Beloved Brother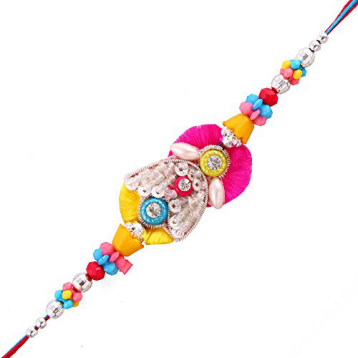 Your brother has always been standing by your side and also has been your partner in crime. You share a lot of great memories together. Your brother means the world to you. The special occasion that celebrates the eternal bond of love and affection between brothers and sisters is known as Raksha Bandhan, On the upcoming eve of Raksha Bandhan, you will definitely pray for his well being and prosperity and tie the auspicious thread called Rakhi on his wrist. On this eve, your brother also takes the vow to be your protector at any challenging point of time. The bond of siblinghood is considered to be the purest bond. The occasions like Rakhi make the bond stronger.
You can buy different kinds of Rakhis for your elder brother. In early days, only a colorful thread used to be tied on the brother's wrist but these days you can find a wide range of designer Rakhis with brilliant ideas and lovely designs to make Rakhsha Bandhan an unforgettable occasion.
Now this article gives you the idea about different types of designer Rakhis that you can opt for your elder brother:
Flower Rakhi:
These types of Rakhis are the perfect choice for your nature loving brother. Made with beautiful flowers like Jasmine or rose, these Rakhis come with amazing aroma. The only downside of buying such Rakhi is that  you cannot keep it for longer period of time as the original flowers will start getting dried up soon.
Colorful Rakhi:
This type of Rakhis come with the vibrant colors that can catch the attention of anyone easily. If you have a little brother a colorful cartoon Rakhi will really make him happy. There you can find other options like beads on a string or Rakhis made of jute etc.
Sandalwood Rakhi:
If you are searching for a special type of Rakhi for your artistic minded brother, the sandalwood Rakhi could be an ideal choice for him. The aesthetic Chandan Rakhis come in different sizes and shapes and the sandalwood is carved to achieve some of the amazing designs.
Rudraksha Rakhi:
Rudraksha has been an inevitable part of Hinduism from its inception. It is considered to be an auspicious object. You should present a Rakhi with the embellishment of Rudraksha to make your brother more prosperous and successful in his life.
Pearl Rakhi:
Yes, it is true that pearl Rakhis are little bit more expensive than normal Rakhis but these Rakhis come with awesome designs and look very trendy. If your brother loves aesthetic gifts, Pearl Rakhis could be an excellent option that you should go for.
Kundan Rakhi:
Kudan Rakhis are truly beautiful. The vibrant color of Kundan Rakhi  can cut the fancy of anyone. If you really want to shower your love and affection to your dearest brother with an exceptionally beautiful Rakhi, Kundan Rakhi could be an ultimate choice. You can easily buy Kundan Rakhi for your brother online.
Mauli Rakhi:
In Hindu re ligion, Mauli is considered to be one of the pious objects. If your brother is a religious and god fearing person, buying a Mauli Rakhi could be a nice idea for your brother.
Raksha Bandhan is one of the most godly occasions and the celebration of this festival brings a great amount of joy and happiness in your family. You can add more color to this celebration by buying a beautiful designed Rakhi for your beloved brother.