Android App Development Company – How To Hire One?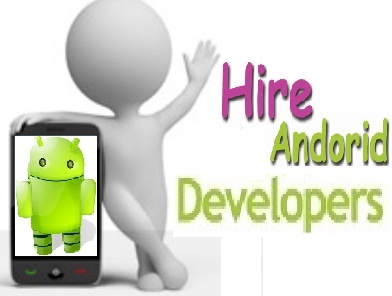 In today's trend of technology Smart phones plays a vital role where as Android powered devices takes the special place. The demands for Android devices have been increased which can be revealed with the emergence of number of android apps and the increased number of app downloads. Also number of companies are coming forward with Android mobile applications development just because the trend is like so. The categories under mobile apps development also getting wider as people are opting to mobile apps to perform most of their actions in a efficient way.
On that note it is important to go with the best group who are into android app development with proficiency. There are certain criteria which has to paid importance while selecting the best concern. Experience, delivery time, ceaseless support are few among the criteria to be notified. As mobile app development trend is drastically spreading over these days it is no wonder that many companies are raising out.
It is wise to select the company who offer the best service at the reasonable cost. Let's see in details the factors to be considered while selecting the best choice for your apps development.
Experience:
The first and foremost factor to be paid importance is experience of the firm. Their experience includes the efficiency of mobile apps development as well as publishing it in the android market central. This can be determined by checking out their portfolio that would talk better about their work. It is also possible that some developers place certain links about the work of them. You can either look at it to get a better understanding. These kind of work portfolio would be helpful to know about their technical skills.
Better understanding of your Requirement:
The ultimate aim of any app would be that it should be an user friendly app such that it gets good user reviews. On that note the android application developer you hire should be able to get your ideas about the app and re produce into the best outcome so that it becomes user friendly. They should be able to visualize the idea about your app and move forward with designing purpose in a creative as well as innovation way. If you are approaching an Android apps development company without any app idea then they should be sound enough to come up with fresh ideas.
Ceaseless Support and Guidance:
This is one thing that has to be given prior importance. The developers you hire are to be in the position to give guidance in a regular manner. In particular technical assistance should be paid off whenever needed. If we talk in detail the team you hire should be able fix the bugs and give you an excellent client support. Total strength of the team also to be noted while hiring an android app development company.
Customization and Porting the Apps:
An app developer should have in depth knowledge about customizing the app if necessary. Also they should be quite strong enough about porting the mobile apps into other platforms from the platform that the app has been created. Any concern with the positive qualities mentioned above would be the best choice for developing your app.
Omnis offers web hosting services to its clients assisting them in creating web and mobile applications for Windows, Linux, and Mac OS X personal computers. With Omnis.com coupons, programmers and application developers can avail quality services at reasonable rates.