A Cider Lover's Guide To Bristol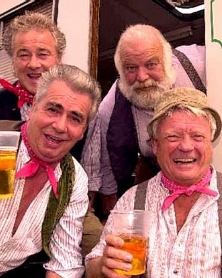 Any self-respecting cider fan needs to go to Bristol, the UK's undisputed cider capital.
Turn around any street corner and you're likely to find the sort of charming little pub where the landlord knows how to take good care of his ciders on tap and a lot of love is put into offering up a selection of interesting and diverse ciders and perries.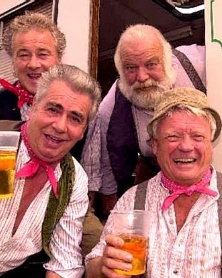 Keep reading for some of the best places to drink the West Country's favourite tipple…
The Nova Scotia
Here, cider comes with a nautical theme and a host of quirky touches (there's a pair or oars hanging from the ceiling, for one).
Locals have a real soft spot for this place, and can be seen tapping their feet to folk music on a Monday night.
Proper pub food and a selection of delicious real ales and ciders seal the deal.
The Orchard Inn
This gem was voted Cider Pub of the Year in 2009 by the Campaign for Real Ale (CAMRA), and it's easy to see why.
There's a revolving door of guests ciders here, many of which are sourced from the region.
Their cider menu can feature anything from a Severncider Perry from Severn to a refreshing Cornish Orchards Perry.
The Bristol Cider Shop
If you're looking for a cider-related gift to take home with you, come with an empty suitcase and fill it with ciders from the legendary Bristol Cider Shop .
They've expertly curated a collection of 80 types of draught and bottled cider, from a dry Gwatkin Old Rats Tale to a Burrow Hill Cider Bus.
For real cider fanatics, they also stock cider vinegar, cider brandies, cider chutney and cider books to help you become a total expert on the subject.
And there are no nasties or interlopers here: all their ciders are made only from 100% juice.
The Green Man
If you're worried about the pesticides used on the fruit that makes your cider, or you're concerned about how ethically it's been made, this is the pub for you.
Some of the cheaper ciders (especially mass market bottled varieties) have been watered down, have had sugar added to them and can be packed full of chemicals.
As well as making sure their ciders are made with organic fruit, the Green Man sources ciders from the local area as much as possible to support independent farmers and breweries while cutting down on the carbon emissions needed to transport the stuff.
And their Sunday Roast (also all-organic) is legendary.
The Apple
This cider pub is housed in a converted Dutch Barge, giving it plenty of character. But the real star here is the 40 or so ciders on tap.
Some people may think cider is made only from apples, but that's not so.
Here you'll find cider made from pears, strawberries and raspberries too which makes a tasty change.
And if you've got a companion with you who's new to the world of cider, you can ease them into it gently with a cider cocktail like the summery Bristol Pimms.
The Coronation Tap
This local is famous for its super-strong Exhibition cider (8.4%!) which is produced exclusively for them.
It's so wickedly strong that they will only sell it to you in half pints, which is probably for the best.
You may not want to drink this all evening, but it's well worth a pit stop here to try it.
Where to stay
For the best views over the waterfront, you can't beat the Radisson Blue Hotel in Bristol, which also has a great bar on-site if you fancy a night cap before bed.
When to go
Cider's permanently on tap at most of the local bars, but the Bristol Cider Festival )(21-22 June 2013) is one of the highlights of the year, with over 80 different types of cider to sample.
Alex Bebidos first fell in love with Bristol and the delights proper West Country in the late '90s and has never looked back.