5 Tips For Benefitting From Networking For Your Business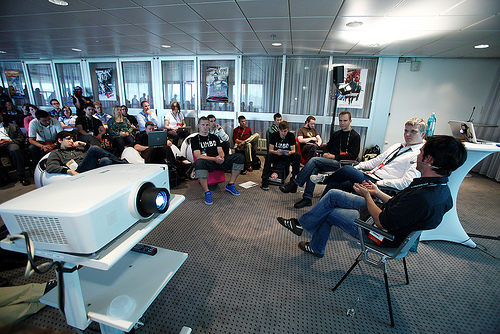 For an entrepreneur, the relationships he/she nurtures can be the best asset. That's why you need to focus your energies on networking. But don't consider that it implies online networking alone. While it is also an integral part of your efforts, in-person networking remains an essential for an entrepreneur.
Whether you are part of a casual set-up such as Meetup Groups or a formal one such as Techstar, it's important that you are active in your endeavor to network. Why is it so important? Networking can be advantageous for entrepreneurs in a number of ways.
Networking can Provide Continuous Source of Support
A small business owner comes across many hurdles on the way to success – how to manage finances, how to choose suppliers, how to make the most of existing customers and many others. The good news is that many others have faced similar troubles and overcame them.
And when you network with entrepreneurs in the same industry or serving the same niche, it's easier to find the answers you are looking for. As you will discover, you aren't in some unique situation. Other entrepreneurs have faced the same problems previously and can help you resolve them. This support can be the ultimate asset for you.
Networking can Boost Cooperation
A startup, like Speed-Ramps.com, often faces the same problem – limitation of funds. The checklist of essentials runs on and on, and there just aren't enough resources to meet all these needs. In such a circumstance, it's important to find and share resources. And a network can help you do it.
But it only works if it's a two-way process. Suppose you have found the best website designer who works at reasonable rates. Share it with someone who has given you their best find – a professional who makes online marketing seem like an easy job. Both of you have gained from this collaboration.
Networking can help you Find Complementary Businesses
Sharing resources is only the beginning of the road. With proper efforts, you can find partners from your network. Technological associates may also prove to be valuable. And best of all, you can also find potential customers, especially if yours is a B2B venture.
Suppose yours is a beauty care products business. With the right efforts, you can create a partnership with a beauty care salon where both of you can benefit from sharing your existing customer bases. Or, suppose you have an app development business and you can network with businesses that eventually turn into your customers.
Networking can Provide Finances
From where do you get your funds? This is often the most difficult question for a new entrepreneur. Again, the good news is that the people in your personal and professional network can prove to be ideal financers. They are the ones who have the most faith and confidence on you.
When you start a business, you follow your passions or make use of your expertise in a specific avenue. It is more than likely that the people you know will have a good idea about your zeal and enthusiasm as well as your knowledge and skill. This will better your chances of gaining the necessary funds from the people in your network.
Networking can Bring Together Like-minded Entrepreneurs Together
It's always better to unite your efforts with someone who has corresponding goals. It leads to more opportunities and added profits for both of your businesses. And, yet again, your network can help you identify such entrepreneurs.
An inventor-entrepreneur may find it easier to focus on the development of the product than on its marketing. On the other hand, a marketing specialist may find it difficult to source unique products. When the two unite, it becomes possible for both of them to reap benefits from their expertise without a hitch.
Your network, on both personal and professional level, can prove to be the best asset you have. And you need to make sure you put in your best efforts to create the network that becomes your family in the long run.