5 Benefits Of Hiring A Professional Corporate Event Caterer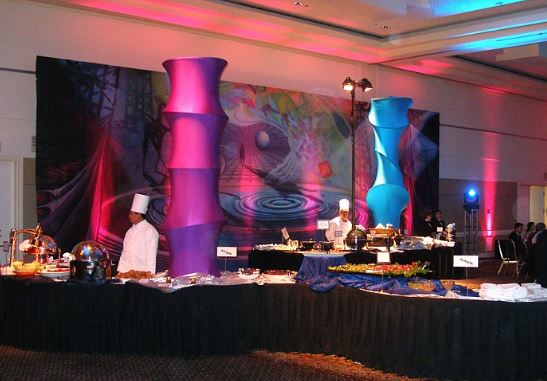 Planning a large event requires a lot of effort. If you are organizing a corporate event for your company, then you must be aware how much stressful things can turn out to be and you wish that someone can come and help you out.
Moreover, corporate events are always accompanied by some good food and it is you who will have to take the initiative of the corporate lunch or dinner.
So, are you thinking of doing it all alone? If you are the owner of a company too, do you really think that is is justifiable to handle the full responsibility of the corporate event to your employees? Well, in such a scenario, the duties can be divided among all and for the catering part, a professional corporate event caterer can be hired.
Hiring these professionals comes with a few benefits. Let me highlight  a few here.
Varied Menu: Well, people love trying out dishes at any kind of event. They will really love it if your corporate event serves them cuisines from around the world. The professional caterers have cooks, who are trained in preparing various dishes and depending on the countries from where your clients are coming your professional caterers can prepare the dishes. Hence, the guests will have a varied menu.
Cost effective and time saving: Time is the most crucial thing that will fall short when organizing a corporate event. To save your time, you need to hire a professional caterer. Otherwise, you will have to do the planning of the menu, get the materials from the market, then hire a cook and so on. With the professionals you don't have to worry about anything, just leave the entire task to them. Also, the professional corporate caterers offer good packages and discounts. Hence, it acts as the best option for meeting the food requirements for your corporate event.
Will make a good impression: Well dressed employees, a good venue and good food can leave a lasting and positive impact or rather impression on your client. The professional touch to your event can crack any deal. Trust me!
Less stress and less responsibility: Already you have a lot of responsibilities on your shoulder to take care of while hosting the big corporate event for your company. On top of that taking the responsibility for food can be stressful and hectic. Hence, by hiring a professional corporate caterer you can reduce a part of your responsibility and minimize your stress before the big corporate event.
Professionalism: A professional touch is very necessary when it comes to corporate events. You cannot obviously hire people to serve your corporate guests, who have no clue about what they are supposed to do in such an event. With a professional catering company, you can relax as they have expertise in this field and you can completely rely on their service.
Well, if you are in Miami, then you are lucky my friend as this place in South Florida hosts a good number of professional corporate caterers. Their expertise and professional service will make the guests stare in awe at the food and the way that is being served. So, to make your corporate event a grand success hire a professional corporate caterer today and draw in compliments, which will be both beneficial for you and your company in the long run.
Tags:Corporate event catering Miami, south florida caterers