4 Things To Remember For A Convenient Kitchen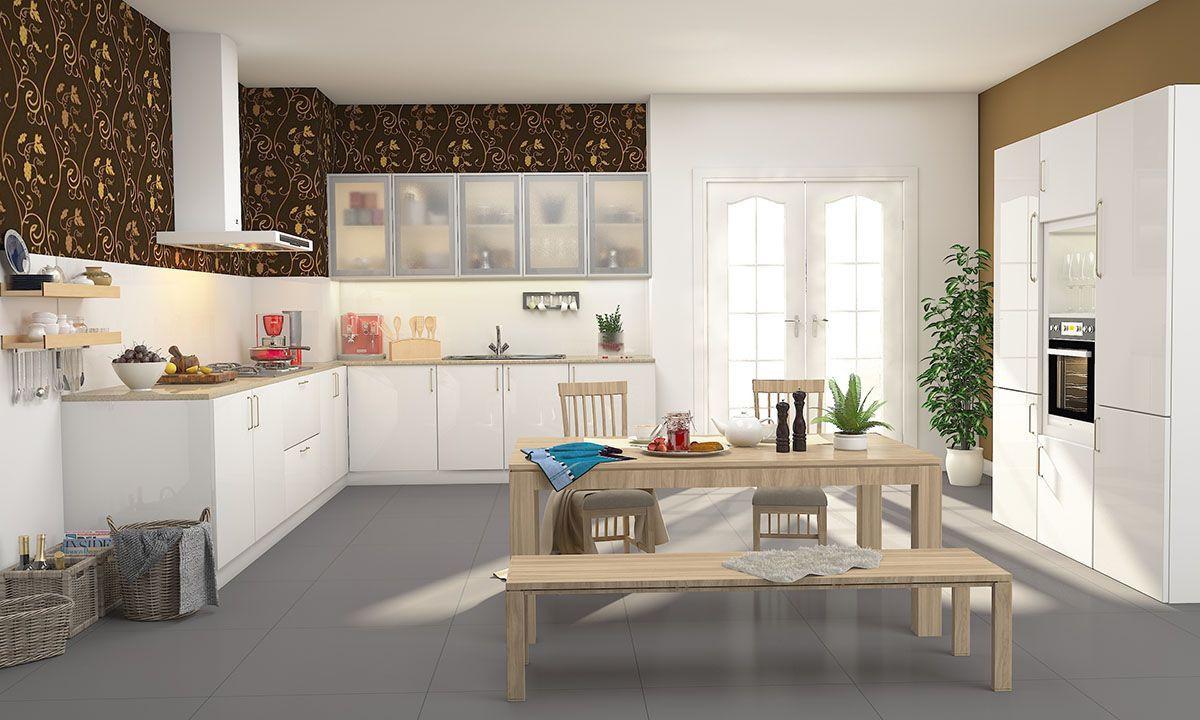 When furnishing a new home or renovating an old one, make a significant change to your lifestyle by opting for a modular kitchen!A well-planned and executed modular kitchen ensures that you not only have enough storage for all your kitchenware and groceries, but it also incorporates design elements which make it easy to work in. The concept of a work triangle which puts the sink, stove and appliances you use most often at an easy distance from each other ensures that you get your work done fast, with the least amount of effort.While the style you choose for your kitchen primarily depends on the space available to you, the most popular one are L-shaped Kitchensand U- shaped Kitchens.
Optimum use of Space:
An L-shaped kitchen design makes the best possible use of the space available to you in a raw flat.It has two legs whose lengths can be adjusted, depending on what you want to use the two counters for. It is customary to keep one leg longer than the other and to divide the longer leg into different sections for different functions.
For a kitchen which resembles a corridor, the best option is a U- shaped kitchen design! Two parallel legs perpendicular to a smaller common leg create a 'u' shape which is suited to kitchens of any size.Whether you have a small, medium, or large kitchen on your hands, get its design right by choosing a U- shaped kitchen. 
A large work triangle:
Free movement in the area which constitutes the work triangle is crucial to an uncluttered and stress-free kitchen and also minimizes the possibility of any accidents. A well-placed work triangle should be large enough for you to be able to work in without feeling cramped, and small enough for you to not waste too many steps.
In an L-shaped kitchen, the work triangle is best located at the juncture of the two legs, while in a U-shaped kitchen the work triangle is best located along the base of the U. Ergonomically perfect, the L-shaped and U-shaped kitchens ensure ease of working.
Go Modular! 
A modular kitchen enables us to make maximum use of the space available to us. Use the corners of your kitchen to integrate a carousel under the counter which opens out to give you extra space in the corner which would otherwise be wasted. Add pull-out drawers, plate racks, cutlery drawers, and everything else you need in the lower part of your kitchen, and reserve the upper kitchen cabinets for your spices, special crockery, and cookie jars.
When not to use it
The L- shape is not the best option for large kitchens or kitchens which have to be used by several people simultaneously.
Avoid a U- shaped Kitchen if you have a very large kitchen which does not have an island, or if your kitchen is less than 10 feet wide.
MyGubbi offers you a range of L-shaped and U-shaped kitchens to choose from, which will suit your needs and pockets perfectly! Choose one which is just right for you, and transform your home and your life!