10 Valentine's Day Gifts For Grandma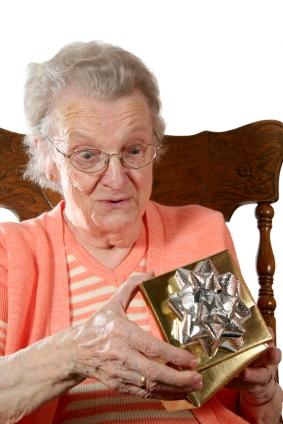 Valentine's Day for most children is another day for candy, awkward moments with the kids at school and night with Grandma and Grandpa.  Why don't you give them a gift to take along that shows Grandma how much she is loved?
In my experience, grandparents love the homemade gifts even more than store bought ones.  This will give you an afterschool craft to do with your kids and a good excuse for the kids to go visit their grandparents while you spend time with the one you love.


If you do choose to purchase through a store, a personalized gift is the best option.
Homemade Gifts for Grandma
Finger painted shirt. One of the gifts that my Grandma kept until her dying day was her finger-painted handprint shirt.  Each kid can put one or both of his handprints on a t-shirt or sweatshirt for a fun, very personal gift for Grandma.  Paint "World's Best Grandma" for an even better gift.  Make sure the paint is permanent.
A Cookie Jar and apron. Everyone knows that Grandma makes the best cookies, so why not get her a cookie jar and apron. You can customize one or both online or on your own for a more personal, fun gift.
If your kids are old enough they may have fun making a tie blanket. Of course, you can add a personal touch by sewing, or painting Grandma onto the blanket.
A mug.  One of the things I remember best about my Grandma's house was the smell of coffee and sweet rolls in the morning.  You can customize your own plain mug with a sharpie and some creativity. Let the kids trace their handprints, or draw on mugs and then bake them in the oven for a permanent, yet handmade gift.
A crafty gift.  A simple, homemade bead necklace, crayon colored picture or cutout heart Valentine from a child will be treasured for years.
Get a Gift for Grandma at the Store
Sometimes, regardless of your best intentions, you just don't have enough time to create a personalized, homemade gift.  Here are some ideas for gifts that are easy to find and ship and can still be a little personalized.
My grandparents were international travelers when they retired. If your grandparents are the same way, you may consider buying them personalized luggage, or at least fun luggage tags that will be easily recognizable.
School or family photos.  Even though this may take some advanced planning.  Pictures are easy to do and fun for grandparents to receive.
Charm bracelets and charms.  Find things she likes and buy charms for a charm bracelet. This is inexpensive and can still be personal.
Invite your grandma to a special breakfast or lunch with your kids.  Schedule ahead of time so that you can spend quality, laid back time together.
A gardening grandma may appreciate seeds or potted plants. You can even spend time planting them with her in the spring so that you can watch them grow together.
As always, these are just a few ideas. For the more fashionable grandma or a grandma that love to joke around, you could go the sexy Grandma route.  Gift certificates to her favorite store are also something worth thinking about.
By Heidi Rothert
Heidi Rothert writes content for companies that specialize in fun, cute gift ideas, such as luggage tags and flirty aprons, for women of all ages.  Heidi also writes for the hair school, plumbing, HVAC and dental industries.