Woman At Its Best – by Wearing Trendy Cloths & Innerwears
A woman's innerwears are something that can boost her confidence and make her feel more beautiful. It could be challenging to choose the exact bra type you want with the wide range of choices out in the market today. You might want a bra that exudes sexiness but also want it to be comfortable and also affordable. The only problem is, most bra manufacturers can't put all those characteristics together. It may be sexy but quite uncomfortable.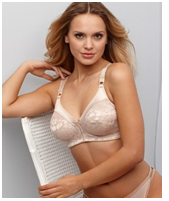 Bali Bras at its Best
You don't have to worry because Bali Bras will provide you with the perfect design that you would like along with quality, comfort and at the right price. Most of the Bali lines of bras were made to flatter their customer's clothed figures without sacrificing comfort. Bali bras only want the best for you and your body.
Bali intimates focuses on the beauty and comfort for their customers. Their goal is to give confidence to their clienteles while making them feel sexy at the same time. Bali gives simple elegance without sacrificing the comfort that their intimate wear give.
History of Bali Bras
Bali is a company in the United States that carries lingerie. The brand itself started back in 1927 and that is where the foundation of women's garments were intended to be designed. One magnificent woman named Sara Stein saw the opportunity to create garments with better quality that could appeal to women. Her main goal was to provide women with a well-designed Bali bra with quality that was affordable to all women. Since she had the know-how in how bras were created due to her experiences in working with a bra manufacturing company, she grabbed the chance to put her ideas to reality.
In her small Brooklyn apartment, Sara Stein started to sew several types of brassiere. Since her husband was a sales clerk with Weber and Heilbrunner, a popular men's furnishing store back in the twenties, he took the chance and sold the bras that his wife made in the stores. They named the promising business "Fay-Miss Lingerie Company." The company made an estimated $10,000 in sales during the first year it started. This was an amazing accomplishment especially back in the day especially since it was only a part-time business. Fay-Miss then renamed to Bali Brassiere Company in 1935.
Main Goal of Bali Bras
The Steins main goal in their brassieres line was not only to profit, but also to give comfort and quality. That is the very reason why their company increased in sales growth and popularity. The company was the very first to introduce to the market "the first bias cup brassiere" and also "the first all-cotton- brassiere." Both types of bras were designed to enhance the shape of women and also give comfort.
During the Steins retirement in the business in 1969, Hanes Corporation of Winston-Salem, North Carolina gave interest in the Bali Brassiere Company. Later on, Consolidated Foods Company from Chicago bought the Hanes Corporation and in 1985, they changed their name to Sara Lee Corporation. The Bali brand has become one of the most significant intimate apparel brands in Hanesbrands Inc. It has been more than 80 years since this enterprise was founded and until now its original concept of design, comfort with high quality garments for women are still in demand today.
In Conclusion
In 2007, Bali launched their campaign of "Live Beautifully." Thatwas the main goal that Bali wanted to achieve for their consumers, from back in the twenties until our time today. Who said that bras cannot all have a stylish design, comfort, quality and at affordable prices? With Bali, you can be sure that you receive all those plus more. One thing is for sure, Bali will not make you regret the money that you invest in their garments.
Author Bio:
Janice Russell is working as a Marketing Executive at Isaac Sultan & Sons. Isaac Sultan & Sons is the great place to shop for bras and panties of various brands. They offer 20% off list price on almost entire inventory of bras and panties.