Why First Aid Training Is Essential For Your Business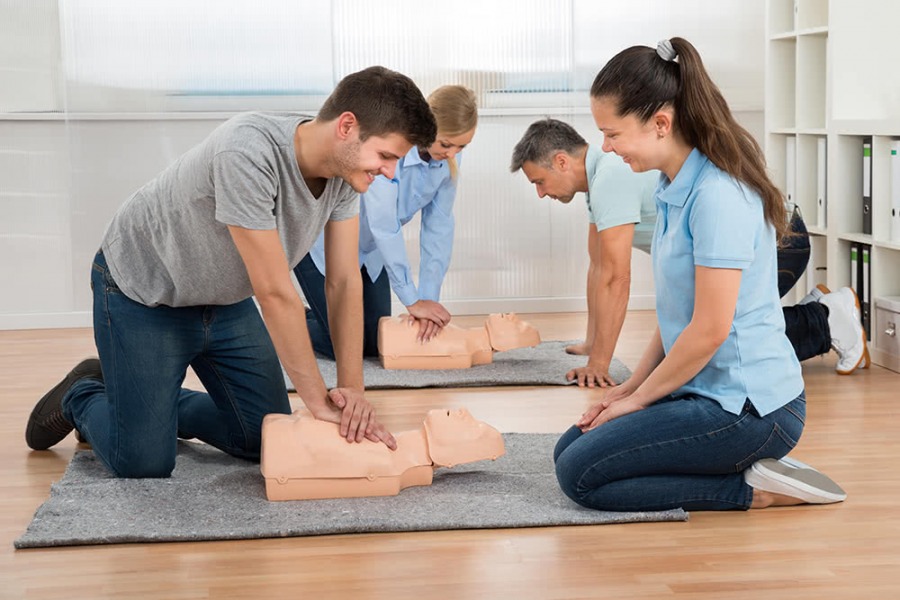 Introduction
All employers, depending on the establishment, should organize and provide basic appropriate conditions for lunch breaks as well as rooms for rest during working hours and psychological relief.
In keeping with the theme of employee wellbeing, any organization, regardless of its legal form and scope of activity, must have a minimum of one first-aid kit for initial assistance to any injuries that occur in the working environment.
Any employer that takes their business seriously will understand that it is essential to offer more than just a first aid kit to ensure your employees feel in safe hands. It is becoming more and more essential to have a minimum of one trained first aider on-site at all times in any one business, therefore illuminating why first aid training is essential for all businesses. 
Helping to prevent serious casualties 
Anyone can end up in an emergency, no matter the preventative measures that have been taken in the risk assessment process, it isn't possible to one hundred percent avoid an emergency occurring.
However, you can assist your team of staff in feeling more prepared for any unforeseen situations by completing an accredited First Aid Training Norwich. More and more companies are making the completion of a first aid training course mandatory so that employees feel more prepared and at ease in the event of a casualty.
The importance of Knowledge 
Knowledge is power and it is of paramount importance that we emphasize the importance of the knowledge provided to any individual that completes an accredited First Aid Training course.
In some countries in the world, the techniques taught in these courses are included in the school curriculum for children which demonstrates how essential some cultures view these potentially life-saving techniques.
The provision of this knowledge can ensure increased safety, calmness, and composure at key moments in a causality. It is normal for individuals to experience panic in an emergency situation, and due to lack of training, it can be possible that they can hinder a situation as opposed to appropriately assisting.
In summary, it is first aid training that will enable you to respond appropriately and effectively to emergencies that could in some cases even save lives.
Benefits of training course
For most companies there are a number of standard certifications that are essential for the legal running of the business: for example fire safety standards and risk assessment, compliance, occupational health, and legal liability.
However, the benefits of having your staff undertake a first aid course go beyond what is legally required. In some cases having a first aider, on-site may avoid hefty legal fees by avoiding a serious injury that requires compensation. In addition to this, the knowledge acquired from a first aid training course is useful not only in case of accidents.
People with knowledge or primary health care can make a great contribution to companies when planning and preparing prevention plans. Finally, training all company employees through a first aid course is one way to build a strong health and safety culture in the workplace.
This will make it easier for you to comply with the various requirements of local and maybe international regulations depending on where you are located. 
How to organize high-quality course process in your company
The employer has the right to independently determine the procedure and form of first training. You can choose from the following options such as: sending your employees for training at a training center or to train employees within the organization by bringing a course leading to the site of your business.
In order to train employees within a company, it is necessary to educate the employees about how and when to provide first aid.
Developing a detailed program
Refer to the industry of your company and model guidelines to design a first aid training program that suits the needs of your business.
In the program, focus on the industry of your workplace, and possible injuries specifically for your employees, you can use the nature of the type of work you do, the equipment you use, and the attributes of your location to work with your first aid trainer to help you evolve a really valuable training course your team will benefit from.
For example, chemical production workers must be able to provide first aid for chemical burns and poisoning with gases whereas workers operating electricity would be benefited more from being trained in case of electric shock.
Determine who will provide training
A specific and detailed qualification has to be completed and passed in order to be able to teach first aid techniques to others and organize and conduct a training program. There are various options you can select as an employer but typically you would either bring an accredited training company to your place of work or travel to a training center.
However, alternatively, there is an option to send one of your employers on a first aid trainer course to provide training to your team and all new employees that join you. It can be valuable to have a specialist like this on site who can also organize all health and safety procedures. 
Purchase necessary equipment for training
In order to practice the practical skills learned on the training, you will need the following inventory: full first aid kit, training doll, stretcher, hemostatic tourniquets, neck corset, folding tires, and protective mask with a non-return valve for artificial lung ventilation. 
Check the knowledge of workers
After the training, it is necessary to check the knowledge of the workers, both in the days and weeks following the training but also on an ongoing basis to ensure that the information remains fresh in their minds.
Knowing that they will be asked to relay information that has been learned on the course can aid in helping ensure that your employees take the course seriously and secondly so that they will remember needed information for saving potentially someone's life.
Assess the outcomes
After the exam, it is necessary to draw up a knowledge test protocol, in many cases, this can be provided to you by the training company. If you are providing first aid training as part of an occupational health and safety training program, a separate protocol is not required. But we recommend you still provide exam papers so that you can understand what's lacking in teaching and remembering information.
This will help you to empower your staff through knowledge so that they feel confident in their abilities should an emergency arise. 
Conclusion
First aid training is of paramount importance in running a successful business when you have a team of employees. It is essential in the current day and age to show that as an employer you value the wellbeing of your staff and what better way to demonstrate this than to teach them how to look after one another.
By proving to your employees that their wellbeing matters to you you can actually motivate them to work more efficiently as they will feel valued by you. 
There are some circumstances that cannot be avoided including earthquakes, fire, flooding, health issues, and you never know what is going to happen in your workplace but you can always be prepared for any kind of situation that could arise.
Thanks to the availability of first aid training courses, it is very easy to provide a safe working environment for the general welfare of your team