What Every Homeowner Should Know Before Buying A Garage Door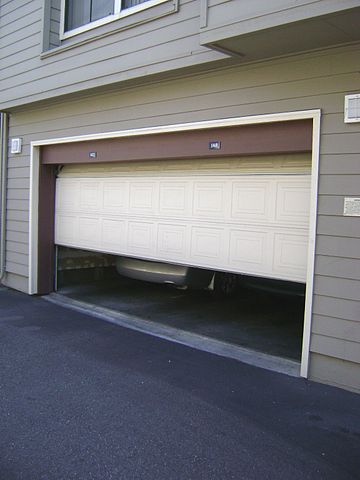 Selecting the right garage door is an important decision. You'll have to use that door for many years, so you'll want one you're completely happy with. There are many kinds of garage doors available, but you can make your decision making process quick and easy by keeping some key factors in mind.
Security
A garage door is just like any other door in your house. It's a way to access the interior of your garage and home. One of its main purposes is to keep unwanted people out of your garage and home. Thick doors are great for keeping people from breaking open the door. It's also a good idea to avoid garage doors with windows. If you do choose to get windows, use shatter-proof security glass.
If you have a home security system set up in your home, find out if it can be extended to your garage door.
It's also a good idea to get a remote garage door opener with a code. This will prevent other garage door openers from opening your door.
Safety
Garage doors can be very dangerous. There are various working parts in motion when the door opens and closes. In addition, there are hundreds of pounds of pressure being applied when opening or closing the door. Ensure that the door has proper safety features enabled. Many newer garage doors have sensors that prevent the garage door from closing on cars or any other obstruction. Older garage doors reverse when they hit an object, but it's a better idea to get a door with sensors to prevent the door from accidentally damaging an object or person.
Speed and Power
Many people don't take speed into consideration when buying a garage door, but it is an important aspect. You want to make sure that door opens and closes at a pace that you're comfortable with. The speed is also correlated to the power of the mechanism. If you have a high-powered mechanism powering your door, it will move more quickly and fluidly. A low-powered mechanism with have difficulty lifting a heavy door, which may cause it to open slowly. Ensuring that you have the right amount of power for your door will also prevent any undue stress on the mechanism.
Aesthetics
Garage doors need to be large enough to allow one or more vehicles into the garage. This makes them a large fixture on the front of your home. Like any addition to your home, you want to ensure that your new door fits the style of your home. Garage doors come in various shapes, sizes, designs and colors. The only variable is the owner's preferences. It's a good idea to get a door that matches the color scheme of the rest of the house, but not the base color. For example, if the color scheme of your home was white with green trim, it would be a good idea to get a green door. It will make it pop from the surrounding color of the house while still matching the color scheme.
Ensure that the door you choose is exactly the door that you want for your home. You don't want to put it up only to realize that it doesn't make you happy. Take the time and effort to do proper shopping and research before making your final purchase to find a door that will work well and look nice on your home.
Featured images:
License: Creative Commons
image source
Rachel is a blogger for Action Garage Door Repair Specialists that offers garage door repair services in Fort Worth, TX. You can follow Action Garage @ActionGarageTX.